PRINT THIS ARTICLE
CANDLESTICK CHARTING
---
Resistance Looms For Phelps Dodge
11/02/06 11:01:16 AM
---
by Arthur Hill
---
A bearish engulfing pattern at resistance could spell trouble for Phelps Dodge. Here's what to look for.
Security:
PD
Position:
Hold
The bearish engulfing pattern is a two-candlestick pattern that requires confirmation. The first candlestick is white and in the direction of the short-term trend, which is up. The second candlestick forms with an open above the close of the first and a close below the open of the first. (Sounds a bit like the Abbott and Costello comedy routine "Who's On First," doesn't it?) The result is a long black candlestick that engulfs the prior white candlestick. The bulls started strong, but the bears wrested control away and forced prices down by the close. Further weakness is required for confirmation, and a minor support break would do the trick. See Figure 1.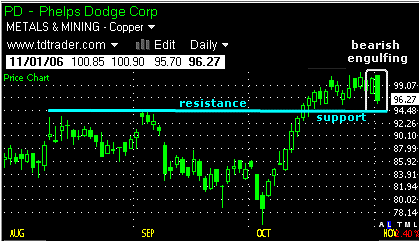 FIGURE 1: PHELPS DODGE, DAILY. The bearish engulfing pattern calls for careful observation.
Graphic provided by: TC2000.com.
Graphic provided by: Telechart 2007.
The stock surged above 95 in mid-October and then consolidated the last two weeks; 95 marked resistance in August--September, and this broken resistance level now turns into support. A move back below 95 would confirm the bearish engulfing and argue for further weakness.


FIGURE 2: PHELPS DODGE, WEEKLY. A possible double top is forming amid the next support zone.
Graphic provided by: TC2000.com.
Graphic provided by: Telechart 2007.
Taking a step back and looking at the weekly chart (Figure 2), we can see a possible double top forming amid the next support zone. The stock peaked around 100 in May and again in October. The two highs mark a potential double top and a move below the intermittent low (July 72.32) would confirm the pattern. This July low and the early October low mark a support zone in the mid-70s, and this is the downside target on a break below 95.


---
Arthur Hill
Arthur Hill is currently editor of TDTrader.com, a website specializing in trading strategies, sector/industry specific breadth stats and overall technical analysis. He passed the Society of Technical Analysts (STA London) diploma exam with distinction is a Certified Financial Technician (CFTe). Prior to TD Trader, he was the Chief Technical Analyst for Stockcharts.com and the main contributor to the ChartSchool.
Title:
Editor
Company:
TDTrader.com
Address:
Willem Geetsstraat 17
Mechelen, B2800
Phone # for sales:
3215345465
Website:
www.tdtrader.com
E-mail address:
arthurh@tdtrader.com

Traders' Resource Links

TDTrader.com has not added any product or service information to TRADERS' RESOURCE.
---
Click here for more information about our publications!
Comments
Date:
 11/02/06
Rank:
 4
Comment:
Date:
 11/07/06
Rank:
 4
Comment:
PRINT THIS ARTICLE