With the Dow Jones Industrial Average and Standard and Poor's 500 finally succumbing to the bear market that has already ravaged the Nasdaq, many of those investors who have not already made cash a large part of their portfolio are still looking for keepsakes from among the outcast. Generally speaking, defensive stocks in industries like tobacco, drugs and food are among those first plucked from the rubble. But with many of these issues still slow to recover from the spring declines, the pickings seem, in many cases, to be slimmer than slim.


But one of those "defensive" stocks that suffered the worst (or at least suffered more dramatically than most) is providing clear signs that, while it may not be a completely safe haven, it might provide a little shelter from the bearish storm. Procter and Gamble (PG) was already on a downtrend in early 2000 when it dropped from the high 80s to the low 60s in the blink of an eye at the beginning of March. While other issues slid in March and April, PG virtually teleported down to year-to-date lows, creating a gap of almost $30 per share on its way from 88 to 61. After a failed rally in April could not bring share prices above 70 for any sustained period of time, Procter and Gamble settled into a summer trading range between 65 and 55. However, near the end of September, with prices in the low 60s, Procter and Gamble rallied over the course of about ten trading sessions to close above 70 for the first time since April.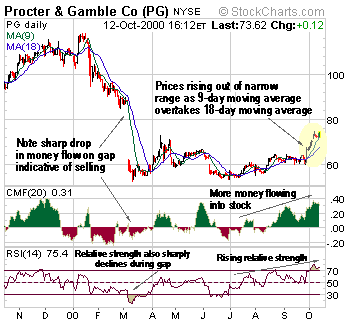 Dramatic increases in money flow over the past six weeks accompanied by a series of rising peaks in relative strength help Procter & Gamble recover from a $30 per share drop (over 25%) in March.
Graphic provided by: StockCharts.com.
A number of indicators suggest that there may indeed be legs on Procter and Gamble's recent rally. The 9-day moving average for the stock has moved upside of the 18-day moving average, reflecting the rising premium on PG shares as we moved into October. Additionally, the money flow indicator has climbed dramatically into the positive since the beginning of September, which suggests that PG was increasingly looked at as a place for investor dollars that fled from failing sectors like technology and the Internet. Comparing the money flow indications in September and October to those in March, it also seems to be the case that more investment money is going into PG now than was going out during the stock's $30 point gap down in the spring.


Another promising indicator for Procter and Gamble bulls is the relative strength index, which has been registering a series of rising peaks since August, when prices had again risen above their 9- and 18-day moving averages--even though the outlook for the stock was still significantly unclear. The first peak may or may not have been premonitory, but the relative strength index has continued to confirm PG's climb to the top of its trading range and, at least temporarily, up out of it. Looking back over the year, it appears that the relative strength index has been a fairly reliable indicator for PG's fortunes, anticipating weakness in the stock in both late January and late February--this last warning only sessions away from PG's big gap down in March.


There is a truism that suggests that all gaps are eventually filled. Ignoring the facetious time-frame arguments (given an infinite amount of time, etc.), Procter and Gamble is in a great position to fill in the March gap between 60 and 90. In fact, Procter and Gamble is already one third of the way there, given the stock's recent upmove. Should investors continue to see stocks like Procter and Gamble as sufficiently defensive issues during the current bear market, then the March gap may indeed be filled.