With many traders leery of joining the euro sellfest because of fears of further central bank intervention, some have switched their focus to dollar/yen trading. But the mid-September rally in the major European currencies--rallies that have pulled the British pound, the Deutschmark and the Swiss franc up a bit from 10+ year lows--might have traders turning their attentions back to the Old Country.


The currencies of the major Eurozone countries have been bearish in 2000. By early September, the Swiss franc was down 11% from its February high. The British pound was down 12 1/2% and the Deutschemark was down almost 16% over identical time frames. The euro, which constitutes a special case, is down 15% year to date. By contrast, the yen is trading at only 6% off its late March high.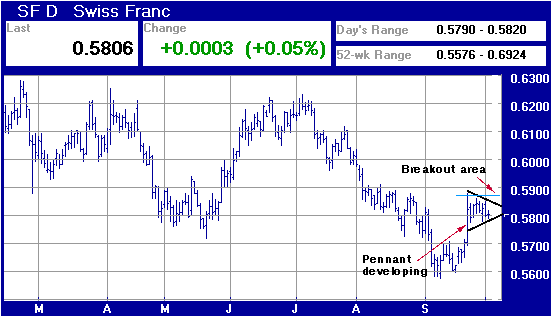 Note: After ralling from a major long-term low, the Swiss franc's pennant formation could be a prelude to continued gains. Prices rising above 59 cents would suggest that the September lows were indeed a bottom.
Graphic provided by: Future Source.
The conventional wisdom suggests that the robust U.S. dollar is keeping European currencies down, as the strength of the greenback continues to draw in the lion's share of investment capital from around the world. If this is the case, then it would not be surprising at all if a significant economic contraction in the United States--and a subsequent weakening of the dollar due to lower interest rates--helps ignite a sustained advance in European currencies.


The rally in the Swiss franc, which began in mid-September, has all but regained ground lost during the six-week decline since the beginning of August. In fact, late September trading in the franc has started to develop what might be a pennant formation. The pennant, which consists of a short, sloping triangle with two converging trendlines following a steep, dramatic price move, tends to be a brief, consolidating pattern that usually lasts no more than several days. Here, a three-session climb from 56 cents to just under 59 cents led to seven straight sessions in a narrowing range from just under 58 cents to about 58 1/2 cents on the dollar (see chart).


Given the location of this would-be pennant, the formation likely represents traders covering their short positions at the bottom--at least in part. Swiss franc bulls, on the other hand, may be heartened by the notion that the currency may have indeed bottomed. In this instance, the pennant could represent a consolidating period in advance of a resumed climb. At current prices, a strong advance over the 59 cent mark would be the first indication that the franc's decline had been arrested at least temporarily. However, a great deal more upside movement (into the 62 cent area) would be necessary before the currency could be truly considered beyond the bear.