PRINT THIS ARTICLE
GAPS
---
A Drill Hole Of Hope
08/30/06 12:31:53 PM
---
by Koos van der Merwe
---
Gold is down from its recent high, and those supposedly in the know say that gold is down at the moment because "all commodities" are down, but...
Security:
MMR.TO
Position:
N/A
The headlines of the National Post newspaper of Canada shouted "U.S. RECESSION FEAR GROWS":


The "R" word is starting to seep into Wall Street lexicon and expectations of a pause on the U.S. interest rate hikes are being replaced by forecasts for cuts.


If this truly happens, then we will see the US dollar weaken even more, and gold start rising once again as investors look for a safe haven. Madison Minerals (MMR), which is traded on the Canadian market, could be something that investors who want to steer clear of US dollar investments could consider.

In a recent announcement, Madison Minerals reported that:

-49.0 metres of 10.4 g/t gold in hole MK06-50
-Including 8.0 meters of 29.2 g/t gold
-79.1 metres of 3.0 g/t gold in hole MK06-52
-40.0 metres of 15.3 g/t gold in hole MK06-53
Including 24.0 metres 24.0 g/t gold
And so forth.

The drilling results confirm the cohesive, high-grade nature of mineralization.



Is this promotion or fact? The market appears to like the stock as Figure 1 shows, because on August 28, the price gapped upward to a high of $1.08 from a low of $0.65. So do you buy? Let us see what the chart tells us.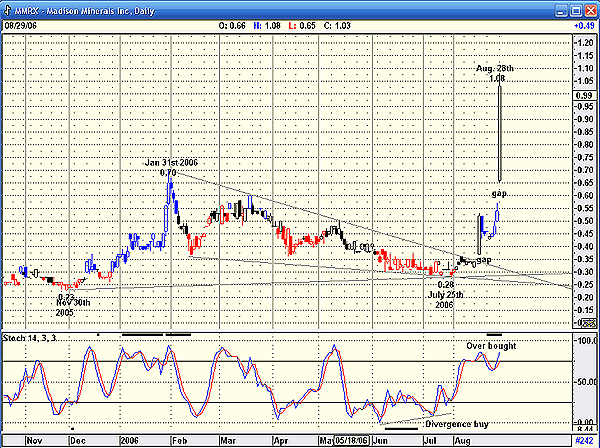 FIGURE 1: MADISON MINERALS. Here's a highly speculative hole of hope.
Graphic provided by: AdvancedGET.
The first thing we see is that the price was $0.23 on November 30, 2005, and rose strongly to $0.70 by January 31, 2006, before falling back to a low of $0.28 by July 25, 2006. Over the same period, London gold rose from 455.95 to a high of 725 by May 12, 2006, falling back to 567 by June 20 and rising to 664 by July 14. This makes us feel that the rise in Madison was pure hype, with the promoters of the company hard at work buying low and selling into the hype as their phone calls and emails bear fruit.



Then of course that announcement, which looks good, saw the price rise within 15 days to a high of $1.08 by August 28 and on two gaps. Of course, the rule is that the price will always fall to fill the gap, and although the price did fall after the rise on the first gap, it did not fall to the gap level but appeared to consolidate before the sharp rise to $1.08.


What now? As chartists, we know that the price should fall to test the gap at $0.57–$0.65, and at time of this writing, the price has fallen to $0.93 on a volume of 1,606,900 shares. Will it fall lower? Probably. And we may even see a second consolidation form.


---
Koos van der Merwe
Has been a technical analyst since 1969, and has worked as a futures and options trader with First Financial Futures in Johannesburg, South Africa.
| | |
| --- | --- |
| Address: | 3256 West 24th Ave |
| | Vancouver, BC |
| Phone # for sales: | 6042634214 |
| E-mail address: | petroosp@gmail.com |
---
Click here for more information about our publications!
Comments
Date:
 08/30/06
Rank:
 3
Comment:
Date:
 08/31/06
Rank:
 3
Comment:
PRINT THIS ARTICLE