The last time I wrote about copper futures was back in February 2006 ("Can Copper Be Topped?" February 23, 2006; Traders.com Advantage). There were a number of things I wrote in that article that are worth recalling. But what sticks out months later is the note that the "big dip in the MACD histogram" that occurred in February was "more likely a buying opportunity rather than a warning of lower prices to come." I predicated this idea on copper's ability to remain above its 50-day exponential moving average (EMA).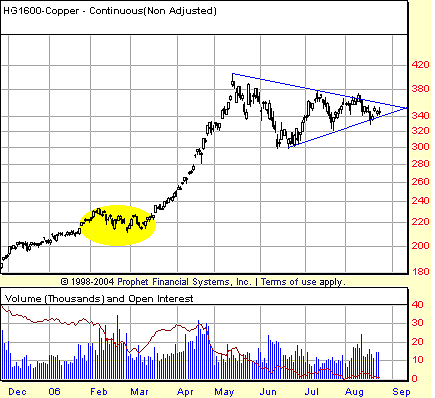 FIGURE 1: COPPER, CONTINUOUS FUTURES. The correction early in the spring of 2006 set up a dizzying rally that saw copper prices surge by more than 80% by May.
Graphic provided by: Prophet Financial, Inc.
Not too shabby, copper. From a correction low of 209.70 on February 27 (basis July futures), copper prices soared to a closing high of 392.30 on May 11 in a virtually flawless rally (Figure 1). A copper stock like Phelps Dodge (PD) rallied from about 63 in March to an intraday high of 103 by May (Figure 2).


Since those thrilling days, however, copper futures have slipped into a sideways consolidation. This consolidation has consisted of the sort of lower highs and higher lows, all bound by a pair of converging trendlines that is reminiscent of a symmetrical triangle. This symmetrical triangle begins with the May peak and is bound by the lower highs in July and August and the higher lows in June and July.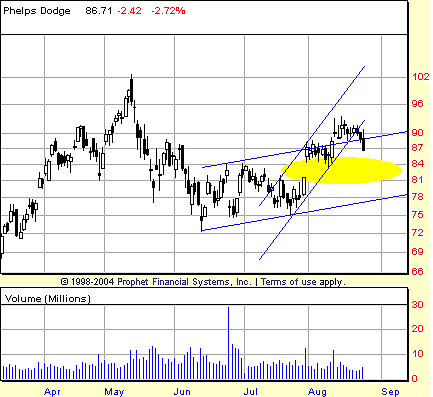 FIGURE 2: PHELPS DODGE, DAILY. If leading copper stock Phelps Dodge is able to hold above the gap zone between 84 and 81, then the likelihood of copper breaking out to the upside—from an intermarket perspective—will be that much greater.
Graphic provided by: Prophet Financial, Inc.
As I wrote recently of the triangle in Google ("The Google Triangle," August 23, 2006), these patterns are generally as likely to lead to upside breakouts as downside breakdowns. The chief caveat, however, is that like many consolidations, they are often resolved in the same direction as the trend that led into the consolidation. If a consolidation appears after an uptrend, then there is a strong possibility that the consolidation will be resolved with an upside breakout.


All else aside, that notion defines copper right now. Prices have moved deeply into the tightest part of the triangle, which could make the pattern invalid if a breakout—to the upside or to the downside—does not occur soon. The upside projection for the triangle is about 440. The downside projection for the triangle is 240. Interestingly, the 240 downside projection would take copper back down to the level of the early February highs, just before the two-month correction that paved the way for the bull market in copper that spring.