PRINT THIS ARTICLE
GAPS
---
Yet Another Gap For Affymetrix
08/23/06 10:00:49 AM
---
by Arthur Hill
---
Affymetrix gapped lower for the fifth time this year, but a high-volume selloff and an August bounce could make this gap an exhaustion gap.
Security:
AFFX
Position:
Hold
There are three kinds of gaps: breakaway, continuation, and exhaustion. Breakaway gaps start a trend, continuation gaps continue a trend, and exhaustion gaps signal a trend reversal. Affymetrix (AFFX) peaked in July 2005 with a big breakaway gap and then declined the next 14 months with another four continuation gaps (Figure 1, red circles). These gaps occurred in the direction of the underlying trend and were never filled. Prices never made it back above the gap and the trend continued lower.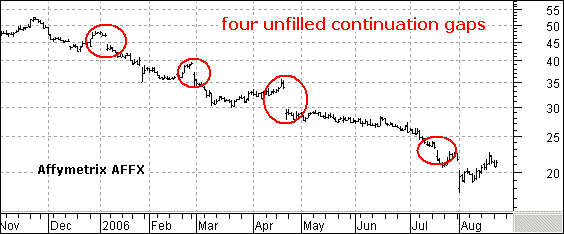 FIGURE 1: AFFYMETRIX. Gaps seemed to be the way for AFFX, with its breakaway gap and four continuation gaps (red circles).
Graphic provided by: MetaStock.
The downtrend continued in August with another gap lower and high-volume decline below 20 (blue oval). However, the stock managed to firm after this gap and bounced over the last few weeks. In fact, this is the first of the five gaps to be filled as prices moved above 22 (gray oval). The high-volume decline suggests a selling climax and the inability to fill the gap suggests an exhaustion gap (Figure 2). Perhaps AFFX is about to reverse a long downtrend.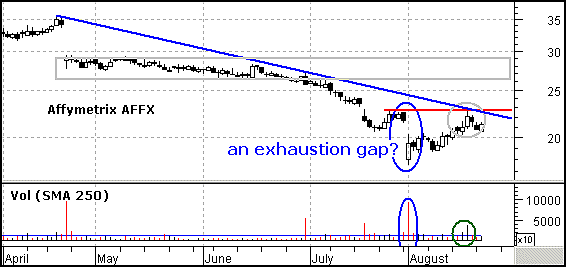 FIGURE 2: AFFYMETRIX. Another gap appears to be suggested here, with a high-volume decline and the inability to fill the gap.
Graphic provided by: MetaStock.
While the stock managed to fill the gap, it has yet to break the first resistance hurdle at 23. The stock established resistance at 23 with the late July high and affirmed this level with last week's high. In addition, the April trendline confirms resistance at 23. I am impressed with above-average upside volume last week (green oval), but would like to see a resistance breakout before calling for a trend change. A move above 23 would open the door to the next resistance zone in the upper 20s (gray rectangle).


---
Arthur Hill
Arthur Hill is currently editor of TDTrader.com, a website specializing in trading strategies, sector/industry specific breadth stats and overall technical analysis. He passed the Society of Technical Analysts (STA London) diploma exam with distinction is a Certified Financial Technician (CFTe). Prior to TD Trader, he was the Chief Technical Analyst for Stockcharts.com and the main contributor to the ChartSchool.
Title:
Editor
Company:
TDTrader.com
Address:
Willem Geetsstraat 17
Mechelen, B2800
Phone # for sales:
3215345465
Website:
www.tdtrader.com
E-mail address:
arthurh@tdtrader.com

Traders' Resource Links

TDTrader.com has not added any product or service information to TRADERS' RESOURCE.
---
Click here for more information about our publications!
Comments
Date:
 08/23/06
Rank:
 4
Comment:
PRINT THIS ARTICLE