Recently, Business Week magazine had an article about investing in foreign companies. The writer referred to Aberdeen Asia Pacific shares, investing in New Zealand and other countries directly and not via ADRs, but the writer seemed to have forgotten that old saying of "When America sneezes, the rest of the world catches cold." If you want to move your cash into foreign investments, why look further than Canada?

So what would you buy in Canada? The most popular investment at the moment are income trusts. Income trusts hold underlying assets that can be anything from power-generating stations to hotels to gambling casinos. All or most of the net cash flow earned by the trust is passed on to unit holders in the form of payments called "distributions." These are typically paid out monthly or quarterly. Income trusts are not bonds and can be volatile. Their income is not guaranteed. Income trusts are businesses and their returns are subject to the same vagaries as any corporation. This means that the value of their units can rise or fall sharply, depending on what is happening in the world in general and their specific sector in particular.

One of my choices this year and the past few years has been A&W Revenue Royalties income trust. As of Friday August 11, the yield was 6.47%, less than the 7% to 8% I am looking for, but as you can see, the price has moved rather rapidly.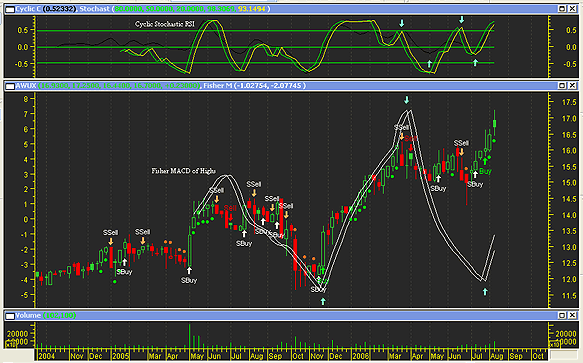 FIGURE 1: A&W INCOME TRUST, WEEKLY. This shows the stochastic cyclic RSI, the Fisher MACD of highs, and the on-balance volume.
Graphic provided by: MetaStock.
Figure 1 is a weekly chart and shows the following indicators:


1. Stochastic cyclic RSI. This indicator was mentioned in an article by John Ehlers in the August 2006 STOCKS & COMMODITIES magazine. I have found it to be an excellent indicator, and have incorporated it into an Expert Advisor formula, hence the signals on the chart "SBuy," "SSell."
2. Fisher MACD of highs. Here, I have calculated the moving average convergence/divergence (MACD) of highs, and applied the Fisher transform formula to it. The article on Fisher transform by John Ehlers, "Using The Fisher Transform," was published in STOCKS & COMMODITIES in the November 2002 issue.
3. The OBV. The third indicator I use is Joe Granville's on-balance volume, shown by the dots either below (buy) or above (sell) the price.


The weekly chart (Figure 1) is suggesting a buy for the A&W income trust, but caution prevails because the stochastic cyclic RSI is at overbought levels.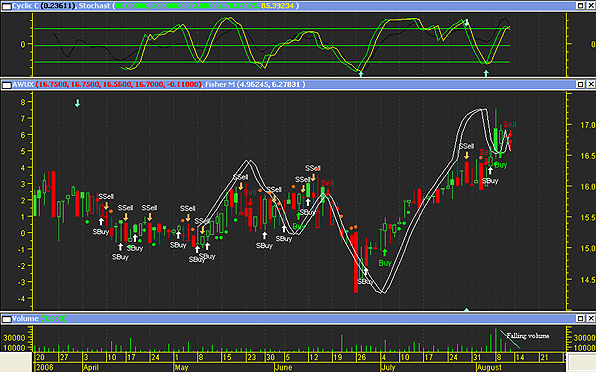 FIGURE 2: A&W INCOME TRUST, DAILY. This chart appears to be suggesting a buy, but caution prevails because the stochastic cyclic RSI is at overbought levels.
Graphic provided by: MetaStock.
My daily chart, on the other hand, has given a sell signal by the Fisher MACD of highs, but not yet confirmed by the stochastic cyclic RSI that has shown a crossover in the indicator, but not a move below the 80 level (Figure 2). Falling volume as the price fell, however, suggests that the sell signal may be suspect.

Finally, I have a policy that whenever the yield of a trust drops below 7%, I sell, simply because I feel that no one will purchase a trust offering a yield less than 7%. As I mentioned previously, the yield as of Friday, August 11, was 6.47%.



To conclude, I would not be a buyer of A&W at current levels, but it is an income trust that I feel will "not go broke," so it is very much on my watchlist. Should I receive a buy signal at any stage, I will first check its yield, and only if the yield is above 8% will I buy.