It's hard to know which angle to take on the developing falling oil stocks/bottoming airline stocks situation. The much-talked-about fiasco involving BP and its Alaska pipeline—a fiasco that was anticipated a month ago in the ever-worth-reading Financial Times—provided oil bulls with an opportunity to drive those stocks higher. And this morning's news about a foiled terrorist plot to detonate liquid explosive on trans-Atlantic airlines appears as if it should have been all that was needed to do something similarly destructive to the near-term fortunes of airline stocks ...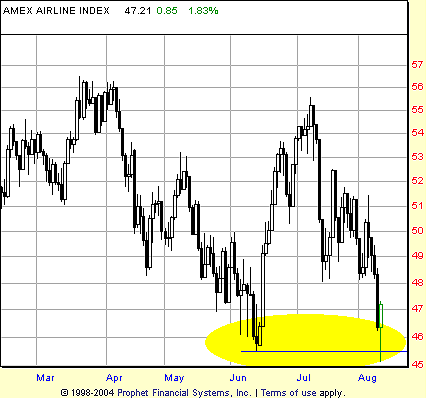 FIGURE 1: AMEX AIRLINE INDEX, DAILY. The reversal in early August after breaking down below the June lows suggests that the airlines stocks are likely done going down for the time being.
Graphic provided by: Prophet Financial, Inc.
Because it seems to me that the markets are close to making short-term cyclical lows (see Tim Wood's work at cyclesman.com for more) between now and midmonth, I want to focus on areas that are more likely to bounce than break down—although the latter may ultimately prove to be more profitable hunting ground for speculation. See Figure 1.


Transportation stocks—including the airlines—have been under exceptional selling pressure throughout July. The fact that the airlines, as measured by the $XAL, have taken their correction all the way to the support provided by the June lows, suggests that some of this pressure is likely to abate as profitable shorts cover and take profits and aggressive buyers play the low-risk opportunity for a bounce.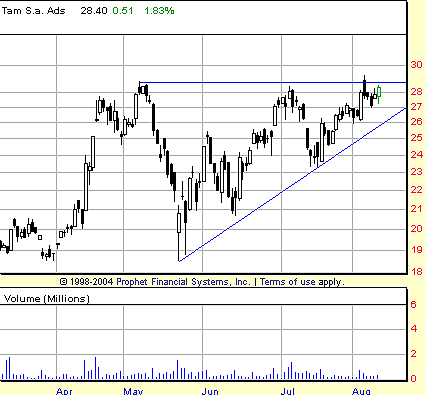 FIGURE 2: TAM S.A., DAILY. One of the very few airline stocks still in an uptrend, TAM SA recently retreated from fresh 52-week highs in early August.
Graphic provided by: Prophet Financial, Inc.
I say "low risk" in the sense that the exit point for a play to the long side is fairly clear. As Victor Sperandeo writes in his second book, Trader Vic II: Principles Of Professional Speculation, on the subject of the 2B:


The reason is that a 2B allows you to catch almost the exact top or bottom, and thus sets up a great risk-reward scenario. In an uptrend, for example, the ideal way to capitalize on a 2B is to sell on a stop when prices break below the previous high ... After selling, you then put in a buy stop at the 2B high. When trading in the intermediate-term trend, this almost always sets up a reward-to-risk ratio of 5 to 1 or more. Even if you get whipped out two, three, or even four consecutive times, the one you catch will end up making you a bundle.





Ideally, the way to play a 2B bottom in a sector index like the $XAL would be to find a component stock that is in an uptrend and pulling back—rather than a component stock that is also making a 2B bottom. If the sector is bottoming, then look for a stock that has great relative strength by virtue of being in an uptrend, preferably, or one that is moving sideways. Unfortunately, there are few airline stocks in uptrends, such has been the damage created by the declines in July. In fact, the only major or regional airline that is definitively above its major trendline is TAM S.A., a Brazilian company that provides air transportation for both passengers and cargo (Figure 2).