PRINT THIS ARTICLE
ACCUM./DIST. CHAIKIN
---
Signs Of Accumulation In WMI
07/27/06 08:38:09 AM
---
by Arthur Hill
---
Despite a decline over the last three months, key volume indicators have remained strong for Waste Management (WMI) and the correction may be nearing its end.
Security:
WMI
Position:
Accumulate
I am using two volume-based indicators to measure buying and selling pressure. On-balance volume adds volume on up days and subtracts it on down days (closing basis). The accumulation/distribution line adds volume when the close is above the mid-point of the high-low range and subtracts volume when the close is below the mid-point. On-balance volume works from one close to the next and the accumulation/distribution line works with a single day's price action. This makes them complimentary and valuable when used together.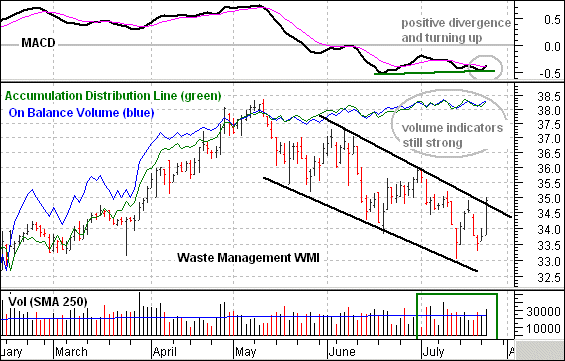 Graphic provided by: MetaStock.
While the stock declined from May to July, the accumulation/distribution line and on-balance volume continued higher. This may seem strange, but it shows that upside volume has been stronger than downside volume from close-to-close AND intraday. Taken together, these indicators show accumulation on the way down and this is quite positive.


While these volume indicators shows signs of accumulation, the price chart shows a clear downtrend. The stock formed lower lows and lower highs the last two months. There was a big surge on Tuesday and this broke the upper trendline. Volume was above average and this is the start of a trend reversal.


In addition to Tuesday's surge, MACD has a positive divergence working and moved above its signal line. Momentum is turning up again and this stock appears to be putting in a bottom. Tuesday's surge in just one day and a little follow through would be nice for confirmation. Failure to hold the trendline break and a move below 33 would negate these early signs of strength.


---
Arthur Hill
Arthur Hill is currently editor of TDTrader.com, a website specializing in trading strategies, sector/industry specific breadth stats and overall technical analysis. He passed the Society of Technical Analysts (STA London) diploma exam with distinction is a Certified Financial Technician (CFTe). Prior to TD Trader, he was the Chief Technical Analyst for Stockcharts.com and the main contributor to the ChartSchool.
Title:
Editor
Company:
TDTrader.com
Address:
Willem Geetsstraat 17
Mechelen, B2800
Phone # for sales:
3215345465
Website:
www.tdtrader.com
E-mail address:
arthurh@tdtrader.com

Traders' Resource Links

TDTrader.com has not added any product or service information to TRADERS' RESOURCE.
---
Click here for more information about our publications!
Comments
Date:
 08/04/06
Rank:
 5
Comment:
PRINT THIS ARTICLE