You won't hear it from me. I argued on my blog, moodmovesmarkets, that the market was likely to bounce a week ago, back on July 11.

But trading is as often as not a game of miss-miss-hit. Which brings me to the lows being made in the second half of July.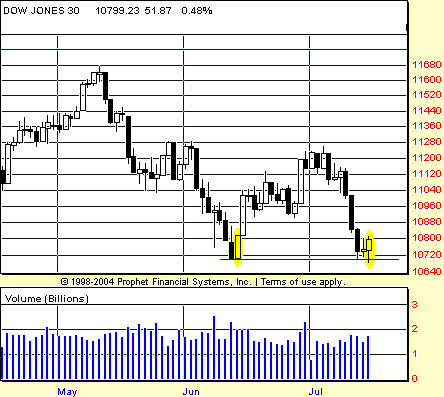 FIGURE 1: DOW JONES INDUSTRIAL AVERAGE, DAILY. The low in July exceeded the low in June by a small margin. Failure to follow through to the downside could represent an opportunity for the market to move higher.
Graphic provided by: Prophet Financial, Inc.
It could be argued that the Dow Jones Industrial Average (DJIA) is in the early stages of establishing a double bottom, with troughs in mid-June and mid-July. However, trading the DJIA as a double bottom would require a close above the highest high between the two bottoms, or a close north of 11257--more than 450 points away.


Fortunately for aggressive--or perhaps merely impatient--traders, there is another option. Variously described as the Turtle Soup/Turtle Soup Plus setup as well as the 2B setup, new lows that do not show follow-through are often great indications of a market that, rather than continue in its downtrend, is instead preparing for a reversal and move to the upside (Figure 1).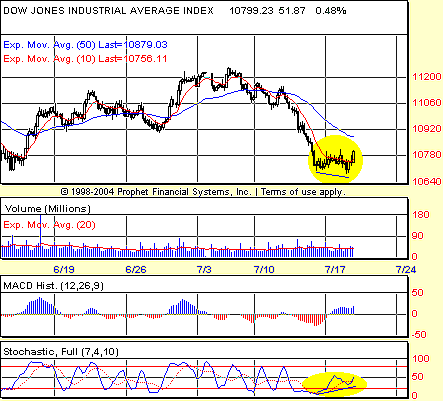 FIGURE 2: DOW JONES INDUSTRIAL AVERAGE, HOURLY. A positive divergence in the hourly chart of the DJIA suggests the possibility of higher prices in the near term.
Graphic provided by: Prophet Financial, Inc.
It bears repeating that the market still needs to show (a) that the lows are in and (b) a move above the high of the session during which the previous low trough (in June) was made. In this case, that would mean that the DJIA would need to remain above the 10710 level (roughly), especially on a closing basis, and to rally above 10820, ideally on growing volume. Another way of saying what the bulls are looking for is a follow-through day to the upside. Generally, when a true low is established, there is within the following few days a powerful surge to the upside with excellent breadth and strong volume. For all intents and purposes, this is what will best fulfill the requirements of the successful Turtle Soup/2B reversal. See Figure 2.


The beauty of the Turtle Soup/2B reversal is that a trader need not suffer greatly if the bet is wrong and prices continue lower. It becomes clear fairly quickly when a 2B reversal is not going to develop, providing traders with plenty of time to exit or reverse their positions. At the same time, in the event of a successful reversal, the trader is usually on board at a particularly advantageous level, during a time when most traders are still pointed the wrong way.