I recently pointed out how the nonconfirmation between the Dow industrials and the Dow transports put a cloud over the once-confirmed downtrend ("Leading By Transports," June 29, 2006; Traders.com Advantage). To recap, the downtrend that began in May was confirmed when both the industrials and the transports broke down below the April lows. However, because the transports failed to break down below the March lows as the industrials did, there was a nonconfirmation that put into doubt the validity (or, better, the sustainability) of the downtrend (Figure 1).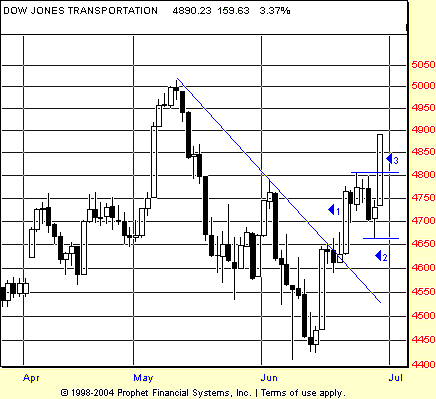 FIGURE 1: DOW JONES TRANSPORTATION AVERAGE, DAILY. A classic 1-2-3 trend reversal sends the Dow transports soaring to new monthly highs, and closing in on all-time highs near 5,000.
Graphic provided by: Prophet Financial, Inc.
The bounce from the June bottom brought both the industrials and the transports up above a downtrend line that can be cast from the May highs. I draw down trendlines the way that Victor Sperandeo suggests in his book Methods Of A Wall Street Master: from the highest high to the lowest high immediately preceding the lowest low. This provides for a reliable trendline, one that will be consistently drawn every time.


This kind of trendline is also key to a trading setup that Sperandeo refers to called the 1-2-3 trend reversal. The 1-2-3 trend reversal here was a relatively tight one. The "1" was the break above the downtrend line, while the "2" was the effort four sessions later to reassert the previous downtrend and to set a new low. The "3" of the 1-2-3 trend reversal came in a powerful, 200-point-plus fashion merely two days after step 2 occurred.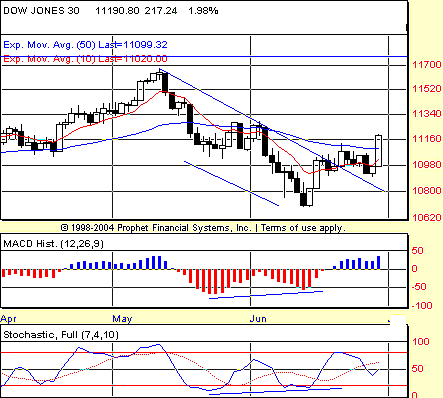 FIGURE 2: DOW JONES INDUSTRIAL AVERAGE, DAILY. The 1-2-3 trend reversal in the industrials is backed up (as it is in transports, as well) by positive divergences in both the MACD histogram and the stochastic.
Graphic provided by: Prophet Financial, Inc.
In the aforementioned article, I wrote about positive divergences in both the moving average convergence/divergence (MACD) histogram and the stochastic that suggested that a bottom of some significance was brewing in both the Dow industrials and transports. In another recent article, I suggested that the June lows had likely found support on the lower boundary of a trend channel that extends back to the lows of 2004 ("Channeling Bottoms," June 20, 2006; Traders.com Advantage). The successful trend reversal seems to underscore the validity of that support. (See Figure 2.)


What kind of upside can traders and speculators look for? My upcoming Working Money article, "The Case For New Highs," notwithstanding, the first task for the Dow industrials will be a close above the June highs near 11,270. Such a move would confirm the Dow transports, which set a new high for the month with the market surge on June 29.