Connacher Oil and Gas Ltd. is engaged in the exploration for and development and production of oil and natural gas in western Canada and in Argentina. Falcon Oil and Gas is engaged in the acquisition, exploration, and development of oil and gas properties. In 2005, the company completed a reverse takeover by Mako Energy Corp., which had exploration-stage oil and gas licenses in Hungary. The licenses are in south central Hungary near the town of Szolnok. Falcon operates in Hungary through subsidiary TXM Oil and Gas Exploration and operates in Romania through subsidiary JVX Energy Corp. Falcon has the right to explore and drill wells on property that covers 576,000 acres and is adjacent to Hungary's two largest oil fields. It also develops basin-centered gas accumulations, tight sands, coal bed methane, and other unconventional gas properties in the US Rocky Mountains.

Both companies are drill holes full of hope, yet had you been a holder of the shares before the run in oil prices, you would have profited. Now that the price of oil seems to be settling into a trading range, is it still worth holding or even purchasing shares in either of these companies? Let us look at what their charts tell us.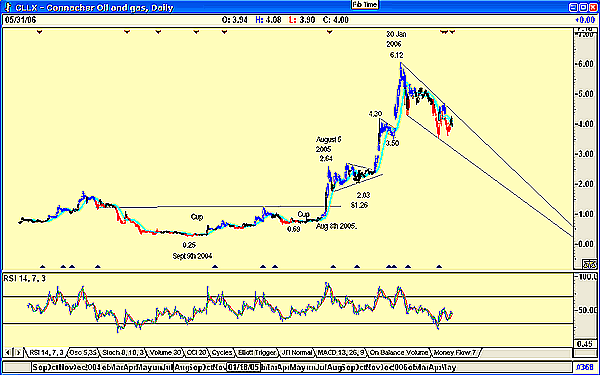 FIGURE 1: CONNACHER OIL AND GAS, DAILY. The price of CLL reached $4.30 before it formed a wedge, suggesting a new target of $5.77.
Graphic provided by: AdvancedGET.
Figure 1 is of Connacher Oil and Gas. As you can see, on September 9, 2004, the price was C$0.25. With the increase in the price of oil, speculators started buying, pushing the price up to $1.26, where the handle of a cup with handle formation was broken. The price then shot up to $2.64 by August 5, when a consolidation triangle formed. Where the cup with handle formation gave a target of $2.27 (1.26 - 0.25 = 1.10 + 1.26 = 2.27), the triangle formation gave a target of $4.59 (2.64-0.69=1.95+2.64=4.59). The price actually reached $4.30 before it formed a wedge, suggesting a new target of $5.77. The price actually reached a high of $6.12 by January 30, 2006, before falling back to present levels of $4.00 or so. For those speculators in from the start, their return on investment would be staggering if they sold at the top.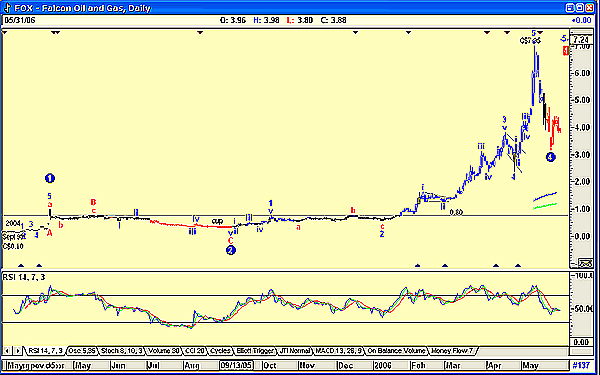 FIGURE 2: FALCON OIL AND GAS, DAILY. Here, the pattern is similar, with huge profits for those speculators who bought when prices were low.
Graphic provided by: AdvancedGET.
With Falcon Oil and Gas, the pattern in Figure 2 is pretty similar, with tremendous profits for those speculators who bought when prices were low. In both instances, the companies are not producing oil but engaged in exploration and development. Will they ever find oil? Who knows. That drill hole of hope is the lottery ticket we all wish for.




What does the future hold? Both stocks have pulled back from their highs, and could be looking for a bottom as the oil price moves lower with hopeful political world stability, although President's Bush's recent overtures to Iran smack more of delaying tactics than constructive negotiation.

With Connacher, the relative strength index (RSI) is suggesting further strength ahead. The RSI with Falcon is not yet in an oversold position. Both shares do look as though they could be buys at present levels, especially with hurricane season approaching, a season that weather forecasters predict could be more violent than in 2005.