PRINT THIS ARTICLE
---
The Impact of Currency Markets
09/11/00 03:09:57 PM
---
by Jayanthi Gopalakrishnan
---
Performance of the currency markets can affect stock prices.
Security:
ECU0
Position:
N/A
Investors and traders were waiting in anticipation of a recovery in the markets especially after Labor Day weekend when everyone returned from their summer vacations. Given that inflationary fears could be put aside momentarily, there was a short period of time when market sentiment seemed to be turning position. But it was a very short period of time. Now a new fear has emerged: the fear of the Euro's performance.


As you can see from the chart of the September 2000 Euro contracts, it has reached an all-time low. This downward trend, which could continue for some time, has raised concerns among those in the investment community. Several US companies do business in Europe and the fall of the European Currency Unit (ECU) could dampen their corporate earnings. Unless the Euro starts showing some signs of recovery, fear will continue to dominate the market.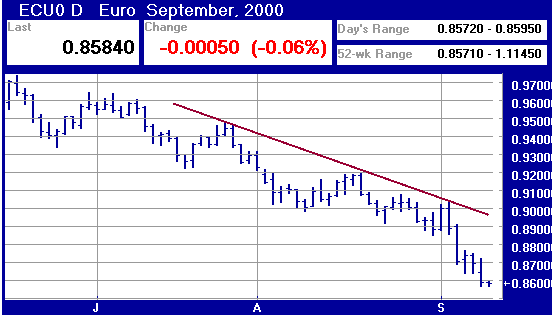 The current downtrend of the Euro could countinue.
Graphic provided by: Future Source, Inc..
At this point investors are keeping their eyes and ears open for developments in the European markets. So even if you trade only US domestic stocks do not neglect the overseas market as they can have a severe impact on your portfolio.


---
Jayanthi Gopalakrishnan
---
Click here for more information about our publications!
Comments
PRINT THIS ARTICLE