PRINT THIS ARTICLE
STOCHASTIC OSCILL
---
Relative Strength Index Versus Stochastic
09/07/00 12:21:39 PM
---
by Dennis D. Peterson
---
There are times when the relative strength index (RSI) performs better than the stochastic oscillator, especially at market tops or bottoms.
Security:
YHOO
Position:
N/A
The stochastic oscillator consists of two parts: a %K and a %D line. The formula for %K is

(today's close - lowest low in %K periods)/(highest high in %K periods - lowest low in %K periods) X 100.

The denominator is a range. It's a bracket. Today's close cannot be higher than the highest high; the most it can be is equal to the highest high. If today's close equals the highest high then %K is 100%. Stochastic can never be greater than 100%. The range bracket assures that, and therein lies it's vulnerability. When a stock or index is moving towards a major top intuitively you would guess that relative to recent action the change should exceed 100%.



Relative strength index (RSI) is calculated as

100 - (100/(1+RS)),

where RS is the average of x days of upward price change divided by the average of x days of downward price change. Suppose that over the last x days there are no down days. Today's close always results in a positive gain relative to yesterday's close. This means that RS is a large number and RSI will be 100. In reality there is always some retracement while moving up. Using a very short time frame for RSI causes it to vary wider and more quickly.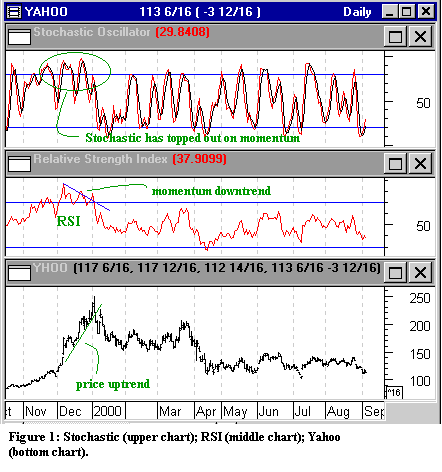 Graphic provided by: MetaStock.
Figure 1 shows RSI and stochastic for Yahoo (bottom chart). RSI (middle chart) uses a 14-day average. The stochastic (upper chart) is the slow stochastic using a %K of five days, slowing of three days and a %D of three days. Yahoo hit its peak in January 2000. RSI momentum shows a peak a month before. RSI momentum never gets as high again, creating the momentum downtrend. Stochastic on the other hand requires imagination to see a momentum downtrend - it just tops out. Use stochastic in a price channel, or at a time when there is no price trend.


---
Dennis D. Peterson
Market index trading on a daily basis.
---
Click here for more information about our publications!
Comments
PRINT THIS ARTICLE