PRINT THIS ARTICLE
ON BALANCE VOLUME
---
ISSI Shows Signs Of Accumulation
05/09/06 08:35:59 AM
---
by Arthur Hill
---
Integrated Silicon Solution has been consolidating in 2006 and is showing signs of buying pressure.
Security:
ISSI
Position:
Accumulate
Identifying what is happening within a consolidation can help traders forecast the direction of the break. It is difficult to analyze price action within a consolidation because prices are gyrating within a range. Only a break from this range will provide a meaningful signal. Despite this handicap, traders can use volume-based indicators to find out what is happening within the trading range. These can tell us if volume is increasing on the bounces, increasing on the declines, or just going nowhere.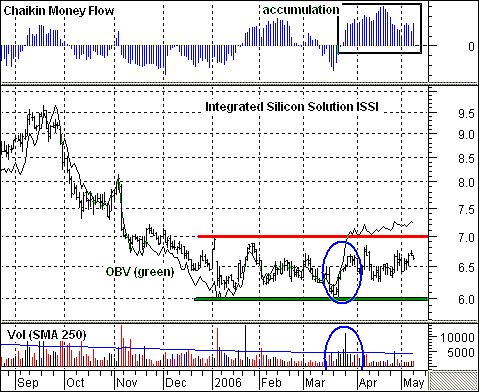 FIGURE 1: INTEGRATED SILICON SOLUTION. ISSI has been consolidating since late December with support at 6 and resistance at 7.
Graphic provided by: MetaStock.
Graphic provided by: MS Quotecenter.
Integrated Silicon Solution (ISSI) has been consolidating since late December 2005 with support at 6 and resistance at 7 (Figure 1). The range has been quite tight, with five to six moves within the consolidation. From a price action standpoint, a definitive signal will not materialize until there is a resistance break at 7 or a support break at 6. It is worth noting that the last significant move was an advance off support on good volume (blue ovals). However, the stock has yet to follow through with a breakout.


For a clue on strength or weakness, I am looking at Chaikin money flow (CMF) and on-balance volume (OBV). Both surged at the end of March 2006 and both are holding their gains. CMF was positive all of April and remained positive going into May. This shows consistent buying pressure. OBV surged to its highest level of the year in late March and then began to work its way higher. OBV confirms that buying pressure remains stronger than selling pressure. With both volume indicators showing continued strength, the odds favor a breakout to the upside.


---
Arthur Hill
Arthur Hill is currently editor of TDTrader.com, a website specializing in trading strategies, sector/industry specific breadth stats and overall technical analysis. He passed the Society of Technical Analysts (STA London) diploma exam with distinction is a Certified Financial Technician (CFTe). Prior to TD Trader, he was the Chief Technical Analyst for Stockcharts.com and the main contributor to the ChartSchool.
Title:
Editor
Company:
TDTrader.com
Address:
Willem Geetsstraat 17
Mechelen, B2800
Phone # for sales:
3215345465
Website:
www.tdtrader.com
E-mail address:
arthurh@tdtrader.com

Traders' Resource Links

TDTrader.com has not added any product or service information to TRADERS' RESOURCE.
---
Click here for more information about our publications!
Comments
Date:
 05/09/06
Rank:
 5
Comment:
Date:
 05/10/06
Rank:
 5
Comment:
PRINT THIS ARTICLE