PRINT THIS ARTICLE
ACCUM./DIST. CHAIKIN
---
International Paper Holds The Breakout
03/29/06 09:00:34 AM
---
by Arthur Hill
---
International Paper broke resistance in early March, and a successful test of this breakout points to higher prices.
Security:
IP
Position:
Buy
First, let's look at the breakout and the strength behind it. International Paper (IP) stock surged from mid-October until the end of December and then consolidated. This consolidation lasted around two months and the Bollinger Bands tightened considerably. There was a brief surge in mid-February, but the stock failed to break out (gray oval). However, the accumulation-distribution line did break resistance, and this reflected strong buying pressure (green oval). There was another surge on good volume in early March, and this move broke resistance (blue ovals). The resistance breakout signals a continuation of the prior advance and the upside target is at around 40. The accumulation-distribution line further confirmed the breakout with a move to highs. See Figure 1.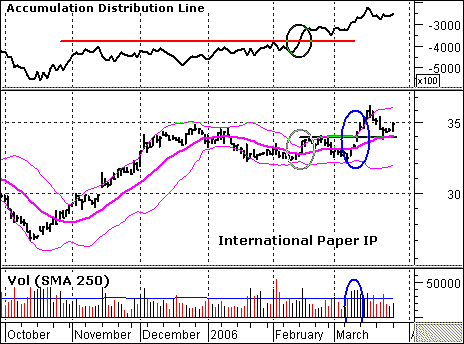 FIGURE 1: INTERNATIONAL PAPER. IP broke resistance, pointing to higher prices.
Graphic provided by: MetaStock.
Graphic provided by: MS QuoteCenter.
The first breakout test has been successful so far. A strong stock should hold its breakout and IP found support around 34. The resistance breakout was around 34 and broken resistance turns into support. In addition, the middle Bollinger Band (a 20-day simple moving average [SMA]) is around 34, and this also marks support. Combined, this makes 34 a natural spot for support and the stock obliged with a bounce on March 27. This bounce is just one day and occurred on relative low volume. Perhaps this is because of generally low volume ahead of the FOMC announcement on March 28. As long as 33.7 holds, I will consider the support test successful and look for higher prices in the coming weeks.


---
Arthur Hill
Arthur Hill is currently editor of TDTrader.com, a website specializing in trading strategies, sector/industry specific breadth stats and overall technical analysis. He passed the Society of Technical Analysts (STA London) diploma exam with distinction is a Certified Financial Technician (CFTe). Prior to TD Trader, he was the Chief Technical Analyst for Stockcharts.com and the main contributor to the ChartSchool.
Title:
Editor
Company:
TDTrader.com
Address:
Willem Geetsstraat 17
Mechelen, B2800
Phone # for sales:
3215345465
Website:
www.tdtrader.com
E-mail address:
arthurh@tdtrader.com

Traders' Resource Links

TDTrader.com has not added any product or service information to TRADERS' RESOURCE.
---
Click here for more information about our publications!
Comments
Date:
 03/29/06
Rank:
 4
Comment:
PRINT THIS ARTICLE