Thoratec (THOR) develops, manufactures, and markets proprietary medical devices used for circulatory support, vascular graft, blood coagulation, and skin incision applications. Currently, the company markets the Thoratec Ventricular Assist Device System and the HeartMate Left Ventricular Assist System for use as a bridge to heart transplants.

Here are some headlines from PR Newswire about Thoratec that tell a promising story:

1. Thoratec Says New HFSA Guidelines Reflect Growing Acceptance Of VADs For Treating Heart Failure Patients, March 1, 2006

2. Thoratec Announces New $20 Million Stock Repurchase Program, February 6, 2006

3. Thoratec Reports Record Fourth-Quarter Revenues; 2005 Revenues Increase 17 Percent To $202 Million, January 31, 2006

4. Thoratec Corporation Names Gary Burbach President and Chief Executive Officer, January 17, 2006

5. Thoratec Says More Than 200 Total Patients Have Been Enrolled In Worldwide HeartMate II Trial Experience, January 12, 2006

The news headlines and reports look good, so why the drop? I can only assume it is because it is a company where products are ruled and controlled by the US Food and Drug Administration (FDA), where any patient mishap can cause the FDA to issue a report restricting the use of their products.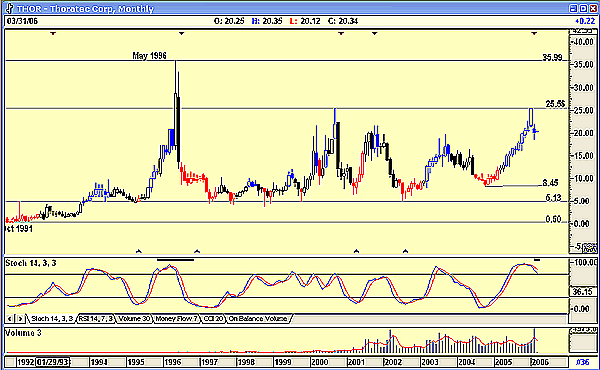 FIGURE 1: THORATEC, MONTHLY. Despite promising headlines, THOR shows marked volatility.
Graphic provided by: AdvancedGET.
A look at the monthly chart (Figure 1) shows the extreme volatility the company experiences in its trading range, where it moved from a low of $0.50 in October 1991 to a high of $35.99 by May 1996. From there it fell to $5.13, establishing this as a base from which it rose to $25.56, fell back to the base of $5.13, and has now with much volatility moved back to test the $25.56 resistance level. The stochastic indicator is suggesting that the price could fall to possibly test the $8.45 support level, presenting what could be a very good buy level.

But on reading the news, which appears excellent, we have to ask: Why the expected drop?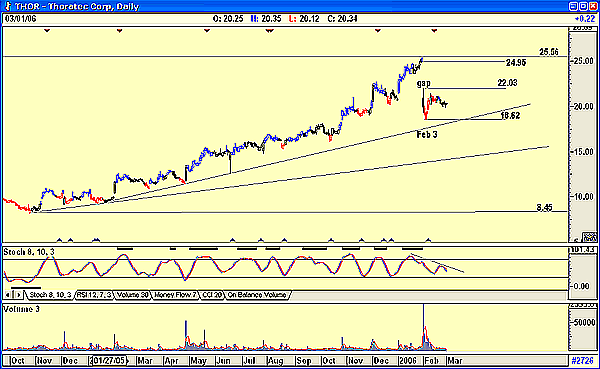 FIGURE 2: THORATEC, DAILY. The stochastic indicator is suggesting further downside.
Graphic provided by: AdvancedGET.
The daily chart (Figure 2) shows how the price fell from the high of $25.56 on a gap to reach a low of $18.62 by February 3. The rule is that prices rise to fill a gap, so we could expect the price to rise to the $22.03/$24.95 level. On the other hand, the stochastic indicator is suggesting further downside, so we could see a fall to test the lower support line before the expected rise. Volume appears to be below average at the moment.

Finally, in order to solve the dilemna, I decided to look at insider trading. As you can see from Figure 3, insider selling has been considerable, but only after the fall of January 30, not before. In its history, the chart shows no insider buying at all, only selling. With insiders having very little to no confidence in their own company, I have to wonder if the stock should be bought. But insiders could be simply taking money off the table to improve their living standards, or to invest in another start-up company. Bravo for them.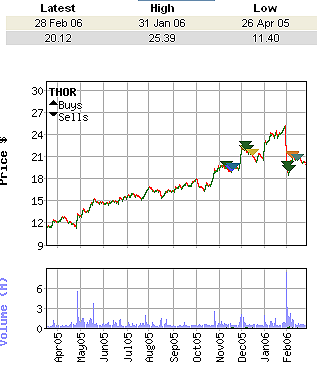 FIGURE 3: THORATEC INSIDER TRADING. Insider trading indicates sells, no buys.
Graphic provided by: Findlaw Quotes.
To conclude, I believe that Thoratec is a company that could be on your watch list for a future purchase.