I began working on this Traders.com Advantage piece almost two weeks ago. As such, I'm going to include both screen captures of the charts I took then as well as an updated chart to show where Coeur d'Alene is now.


The thesis, of course, remains the same. As gold (basis February 2006) was breaking out of a multimonth trend channel, headed for highs not seen since the 1980s, gold stocks were noticeably subdued in their enthusiasm. One tenet of intermarket technical analysis, as I have pointed out frequently in Traders.com Advantage and Working-Money.com, is that when the stocks of a given commodity are outperforming that commodity, the chances are great that the commodity's performance will improve. In other words, if oil is weak, but oil stocks are looking to break out, then it is likely that oil's weakness will be short-lived.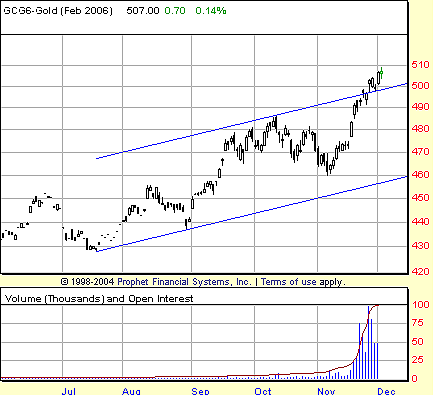 FIGURE 1: FEBRUARY GOLD, DAILY. After an October correction, February gold rebounded strongly in November, breaking out of a trend channel that had contained prices since mid-July.
Graphic provided by: Prophet Financial, Inc.
In the case of gold, we have -- potentially, at least -- proof of the opposite (Figure 1). Gold qua metal has been soaring in recent weeks, particularly since early November, when it was priced around $460 (basis February). But gold qua gold stocks has been less than spectacular. Even though there have been new highs in stocks like Coeur'd Alene that have bested their highs for the year, few if any gold stocks have made the sort of impressive, historic gains that the yellow metal itself has made.


FIGURE 2: COEUR D'ALENE, DAILY. With a slightly higher high in late November and an almost immediate failure to follow through, CDE created a 2B top that signaled the potential for a significant pullback or reversal.
Graphic provided by: Prophet Financial, Inc.
What is most impressive about Coeur d'Alene right now is the topping pattern it created in late November (Figure 2). This pattern -- what Victor Sperandeo called a "2B top" in his book Methods Of A Wall Street Master and Larry Connors referred to as "Turtle Soup" and "Turtle Soup Plus One" in his book Street Smarts (coauthored with Linda Bradford Raschke) -- is one of the ways in which speculators and traders can catch reversals in trend at their earliest. At root, the setup involves a market making a higher high, but failing to follow through with additional price gains. That failure often results in a shift in sentiment from the greed of anticipating higher prices to the fear that prices can climb no further and may be about to reverse -- perhaps severely.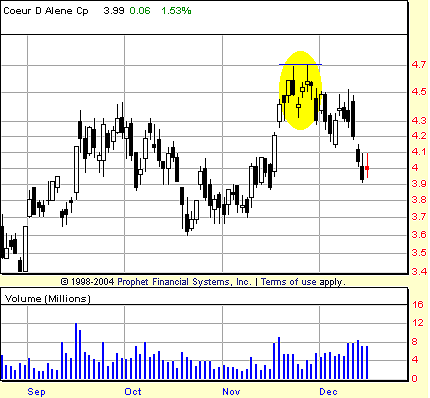 FIGURE 3: COEUR D'ALENE, DAILY. After some sideways movement in early December, the reversal in CDE continued, with the stock gapping down in mid-December to close below $4.
Graphic provided by: Prophet Financial, Inc.
Trading 2B tops/Turtle Soup setups is straightforward. Generally, speculators and traders wait until after the higher high is made, and then look to go short at a level equal to that of the low of the previous high. In the case of CDE in Figure 2, the low of the previous high is 4.48. One possible short entry could have been made at, say, 4.45 -- and such a position would have likely been filled on November 30. Maximum drawdown from such a short trade would have been on December 9 with an intraday print of 4.52. As of this writing, CDE is trading at 3.99 (Figure 3).