"When Black Friday comes
I'll stand down by the door
And catch the gray men when they
Dive from the fourteenth floor."
--Steely Dan, "Black Friday"

Writing about "behavior near holidays" in his book Behavior Of Prices On Wall Street, the late great technical analyst Arthur Merrill observed that "the trading day after the holidays has a rather poor record. The day after [George] Washington's birthday is especially bearish. There is one notable exception: the trading day following Thanksgiving in bullish. This may be a reflection of the tendency to rise on a Friday."



Fascinating. The "black Friday" about which Steely Dan sang was certainly not reflective of any generally bullish Friday tendency -- the reference, of course, being to the myth about markets crashing on Fridays. The original "black Friday," by the way, was not in 1929 (there was a "Black Thursday" and a "Black Tuesday" as that market crash unfolded), but in 1869 during an attempt by Jay Gould and others to corner the gold market. But there was clearly a bullish tendency to a Thanksgiving-oriented Black Friday in 2005, as a number of retail stocks bottomed in late October and rallied strongly toward the November holiday.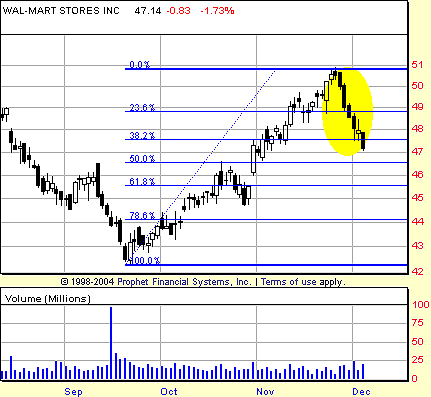 FIGURE 1: WAL-MART, DAILY. A down day on Black Friday, November 25, is followed by four straight negative days as WMT closes in on a 50% retracement of its rally from the September lows.
Graphic provided by: Prophet Financial, Inc.
With plenty of fans and foes alike, Wal-Mart (WMT) is among the more relevant proxies for the retail sector. And Wal-Mart's stock performance on and after Black Friday is quite the eye-catcher (Figure 1). The stock closed down on Black Friday and then continued with four additional down days. In fact, from Black Friday to the present, WMT was down six out of seven days.


Target (TGT), often playing the Red Sox to Wal-Mart's Yankees, was similarly hit by a case of "buy the hype, sell the holiday" as far as Black Friday was concerned. In fact, in Target's case, the "buy the hype" part of the deal was noticeably weak, making the stock's performance, post-holiday, somewhat less surprising (Figure 2).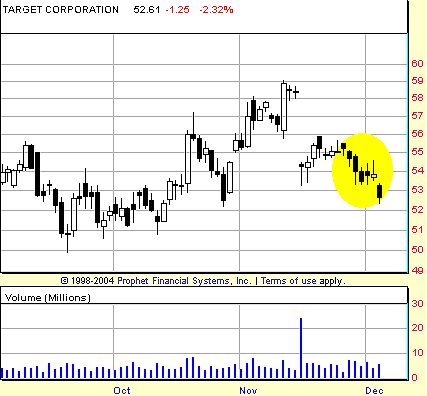 FIGURE 2:TARGET, DAILY. Gapping down near mid-month on overwhelming volume, shares of TGT moved largely sideways over the balance of the month, with a noticeable "wilt" after Black Friday.
Graphic provided by: Prophet Financial, Inc.
To be sure, there were stocks that were doing well before Black Friday (as was WMT, for that matter) that continued to do well in the days afterward. These were stocks such as Ross Stores and Payless Shoes. But from American Eagle Outfitters to Best Buy, and from Saks to Tiffany, the post-Black Friday stock environment casts a fairly dark shadow over what retailers and investors in retail store stocks can expect between now and the end of the year.