PRINT THIS ARTICLE
REVERSAL
---
Divergence To Divergence
12/01/05 09:07:31 AM
---
by David Penn
---
The divergence that giveth in October looketh to taketh away in December.
Security:
C
Position:
N/A
My first credit card as a young graduate student came courtesy of Citigroup. Unfortunately, I fared as well with that first foray into consumer debt as I did trying to short Citigroup by way of puts earlier this autumn. Figure 1 tells the story.


As the saying goes: "What was I thinking?" While the power to create and maintain vivid abstractions is among those factors that separate us from lower animals, the power of such abstractions to convince a speculator who should know better to short not one but two positive divergences is truly a mixed blessing.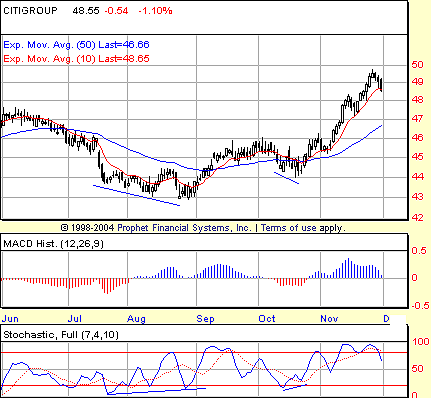 FIGURE 1: CITIGROUP. A running positive stochastic divergence over July and August set up a bottom in Citigroup, while a more conventional, short-term positive divergence in October prepared the way for a powerful rally in November.
Graphic provided by: Prophet Financial, Inc.
That Citigroup was headed higher sooner or later was clear as far back as the summer of 2005, when a running positive stochastic divergence signaled the end of a declining phase that extended back at least as long ago as the previous summer. Rallying up above its 10- and 50-day exponential moving averages (EMAs) in early September, Citigroup nevertheless slipped into a sideways range (roughly) between 44 and 46. In spite of bearish indications such as shooting star candlestick patterns and bullish indications such as a persistence in remaining above the 50-day EMA, Citigroup murdered volatility for a month.

And as the markets so often have it, the break from a lethargic mid-September to mid-October came with a feint. First, Citigroup dipped back under both its 10-day and 50-day EMAs, signaling to restless bears that the next move was downward. However, underneath that dip was a short-term but no less potent positive stochastic divergence. At a minimum, that divergence should have warned bears not to get too excited about the prospects for near-term downside.



The storied "October lows" followed shortly thereafter as Citigroup (along with the rest of the stock market) halted its decline and began a rapid, sharp rally, eventually setting an all-time high just shy of $50 per share.


But December has found Citigroup -- and a number of other financial stocks -- overextended to the upside. And the seeds of, at least, a pullback appear to have been sown. The agent of this reversal appears to be the same sort of provocateur that prompted the rally in Citigroup back in late August and mid-October -- a stochastic divergence. In this instance, however, the divergence is a negative one, matched by a negative divergence in the MACD histogram as well. With the rolling over of the stochastic and the shift downward in the histogram, there is abundant bearish follow-through and plenty of room for Citigroup to find itself closer to where it once belonged. Nearest support is at 47, with additional support merely $1 lower.


---
David Penn
Technical Writer for Technical Analysis of STOCKS & COMMODITIES magazine, Working-Money.com, and Traders.com Advantage.
---
Click here for more information about our publications!
Comments
Date:
 12/01/05
Rank:
 3
Comment:
PRINT THIS ARTICLE