That pharmaceutical companies have underperformed in recent years will come as no surprise. Whether it is the periodic announcement that a once-popular and widely used potion is now running a gauntlet of civil litigation, or the apparently omnipresent threat that the federal government will cripple the patent protections that the Big Dogs in Big Pharma rely on, it seems as if it wasn't for bad luck -- to coin a phrase -- pharmaceutical companies wouldn't have any luck at all.


While many stocks and major stock averages are flirting with (or have already engaged) multiyear highs, the pharmaceutical group's fortunes are headed in a decidedly different direction. In fact, as measured by the exchange-traded fund, the pharmaceutical HOLDRS (PPH), drug stocks are not only threatening to take out their year-to-date lows, but also are only a few points away from lows not seen since the autumn of 2002 (Figure 1).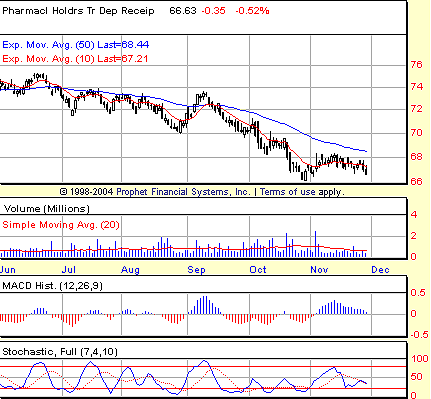 FIGURE 1: PHARMACEUTICAL HOLDRS, DAILY. After a bearish September and October, a bounce in November looks ready to test the bear market lows in December.
Graphic provided by: Prophet Financial, Inc.
As far as cyclical bear markets go, the one in the pharmaceutical group has been more sideways than sharply downward since (at least) the first few months of 2004, when PPH topped out near 81. But that sideways-with-a-bearish-bias drift adds up, leaving PPH down some 17% from its 2004 highs.


The poster child for the woes of this group is Pfizer (PFE). In fact, Pfizer's chart in recent months (Figure 2) is almost identical to the chart of the pharmaceutical HOLDRS. While stocks like Merck (MRK) managed to bounce in October, and others like Bayer (BAY) have advanced (albeit fitfully) in recent months, Pfizer continues to be proverbially incapable of getting out of its own way.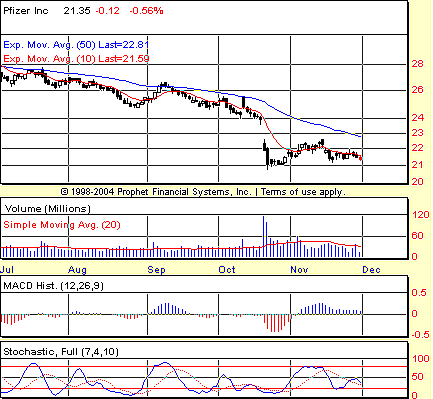 FIGURE 2: PFIZER, DAILY. Gapping down in October and failing to close the gap in November appears to have set up a test of the October lows in December.
Graphic provided by: Prophet Financial, Inc.
Is there any light at the end of the tunnel for pharmaceutical stocks? From a trading perspective, there are potentially bullish developments in stocks like Wyeth (WYE), should it complete positive divergences in the moving average convergence/divergence (MACD) histogram and stochastic, and provide some follow-through to the upside. But increasingly, it appears as if something more than a cyclical calamity is responsible for the agonies of these stocks, as the longer-term chart of stocks like Merck shows something more akin to the NASDAQ circa 2000-02 than what many investors have come to expect from the world's leading drugmakers.