PRINT THIS ARTICLE
MOVING AVERAGES
---
Euro Index Hits A Milestone, Warning Of A Possible US Market Turn
11/29/05 08:06:38 AM
---
by Gary Grosschadl
---
A Euro Index bounce could reflect the US Dollar Index and the major US indexes topping.
Security:
$XEU
Position:
Buy
Any trader who has in the past compared the Euro Index to the US Dollar Index would have noticed the near-mirror image correlation. When one of these currencies runs hard in one direction, the other is going the opposite way. This is useful to know because watching the two charts in tandem helps traders spot a market turn easier. If you wonder whether the US markets are toppy and ready to turn down, you should check out what the situation is in the Euro Index. Currency trading dwarfs the equities markets, so currency traders placing heavy bets are most likely behind this type of market action.


Major candlestick patterns often mark important turning points and several can be found on Figure 1, two of which I will discuss. This weekly chart peaked with a shooting star top. This candlestick, with its small body and long upper shadow, often marks a top in the market, and this held true on this chart. Now we have another major candlestick pattern marking a possible bottom -- a doji candlestick. With its signature small cross, this candlestick is well known for marking major turning points at tops and bottoms. The open and close is identical or nearly so, hinting at indecision between bears and bulls. This often is the first sign of a trend change via a loss in momentum in the previous trend.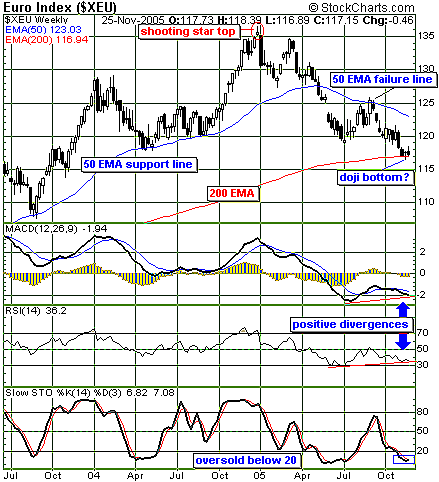 FIGURE 1: EURO INDEX, WEEKLY. This chart of the Euro Index shows possible a turning point at its 200-period moving average.
Graphic provided by: StockCharts.com.
There are other signs lending credence to a possible bounce. Note how the doji candlestick has found 200-period exponential moving average (EMA) support. The 200-period EMA often acts as a very strong level of support or resistance. Two positive divergences are depicted. Both the moving average convergence/divergence (MACD) and the relative strength index (RSI) fail to confirm the lower move of the chart's price action. This points to the likelihood that a bounce is forthcoming. Meanwhile, the stochastic oscillator is in oversold territory. Uplegs most often originate as this oscillator turns up from below 20.


Should this doji bottom hold, the first upside target or test would be the 50-period EMA. Indexes or stocks under pressure can find stiff overhead resistance from major moving averges. Note how this 50-period EMA acted as a significant support line during the previous upleg. Now the danger is that it can be a signicant "failure line," or overhead resistance.

Whether this is a major turning point or merely a bear rally to overhead resistance, only the market knows for sure.


---
Gary Grosschadl
Independent Canadian equities trader and technical analyst based in Peterborough
Ontario, Canada.
---
Click here for more information about our publications!
Comments
Date:
 12/04/05
Rank:
 5
Comment:
PRINT THIS ARTICLE