PRINT THIS ARTICLE
TRADING SYSTEMS
---
Aligning Trading Systems And Markets-Part 3
08/03/00 01:30:11 PM
---
by Dr. RM Sidewitz
---
Finally, traders should know how to identify highly volatile markets.
Security:
JDSU
Position:
N/A
High volatility markets are those that experience significant expansions in their average true range following a period of relatively calm price action. Other measures of high volatility would include increased gap frequency, a significant widening of the differential between two moving averages, and jumps in the standard deviation of the underlying price.


An ideal trading system to use in a highly volatile market is a volatility expansion system. This type of system works well in fast moving and wide-ranging markets. Typically, securities spend very little time in this type of market so if you only trade this market you will spend a great deal of time out of the market, and many traders may not be comfortable with this.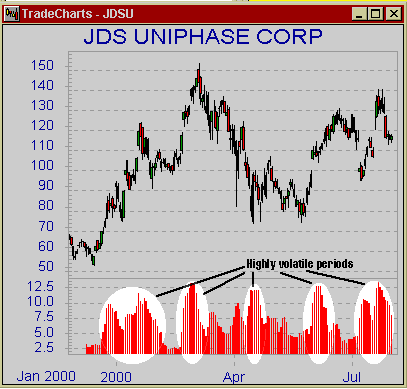 JDS Uniphase Corp. (JDSU)
Graphic provided by: TradeCast Securities Inc..
The volatility expansion system is typified by short periods of trading, high win percentages and relatively small wins per trade. The underlying price patterns of the ideal market for this system will include gap openings, daily range expansion and explosive moves in price. An example of a high volatility market can be seen in the chart of JDS Uniphase [JDSU]. Periods of high standard deviation values suggest a highly volatile market whereas those of low standard deviation suggests calmer periods in the market.


Now that you know the three different types of markets and the appropriate systems to apply to each, you must ask yourself, "Am I most comfortable following a trend or would I rather sell at tops and buy at bottoms? Do I feel uncomfortable when markets move too quickly?" Once you have a better insight into yourself as a trader, you will be able to pick the system that you feel most comfortable with. The type of price action in the market will have to match the system you have selected. Remember, any of them can bring you handsome profits.


In my experiences in trading I have found the following matches to work effectively:

Currencies - trend following systems,
EuroDollars and some Agriculturals - support and resistance systems, and
Stock Indices - volatility expansion systems.

Trading a market that is incongruent with your system is the sure way to ruin. Once you have selected both your markets and method, backtest your approach thoroughly to ensure that you have a reasonable chance of being successful.


---
Dr. RM Sidewitz
Dr. Sidewitz is the President, Chief Executive Officer and founder of Qi2 Technologies, LLC, an investment management company and the Managing Member of Qi2 Partners LP, a domestic hedge fund. Dr. Sidewitz began his career on Wall Street in the mid-1960s with Moody's Investors Service. He then served as the Assistant Director of Research for a registered broker/dealer until 1971. In the ensuing years, he continued his pursuits as a private investor during which time he developed the proprietary methodology that is used by the Limited Partnership. Dr. Sidewitz is the author of two books, "How I Double My Money Annually in the Market" and "How to Stop Sabotaging Your Trading Success: Mastering the Inner Realm". He is a frequent contributor to numerous financial publications and continues to work closely with private clients.
Title:
Managing Partner
Company:
Qi2 Technologies LLC
Address:
4800 Baseline Road, Suites E104-370
Boulder, CO 80303
Website:
www.cybrlink.com
E-mail address:
doc@cybrlink.com

Traders' Resource Links

Qi2 Technologies LLC has not added any product or service information to TRADERS' RESOURCE.
---
Click here for more information about our publications!
Comments
PRINT THIS ARTICLE