PRINT THIS ARTICLE
DAY TRADING
---
Trade Of The Day-Exodus Communications [EXDS]
08/01/00 10:46:12 AM
---
by Jayanthi Gopalakrishnan
---
When it comes to day trading, it's a matter of being there at the right time.
Security:
EXDS
Position:
Buy
Usually I restrict my trading during the lunch hour slowdown but EXDS appeared on my new high/new low screen at around noon and I took a look at its price chart. A distinct triangle had started to form and volume looked like it was increasing in strength.


I decided to enter a long position if the following conditions were met:

1. Prices broke out above the triangle,
2. Volume was strong, and
3. The candlestick patterns showed a strong bullish reaction.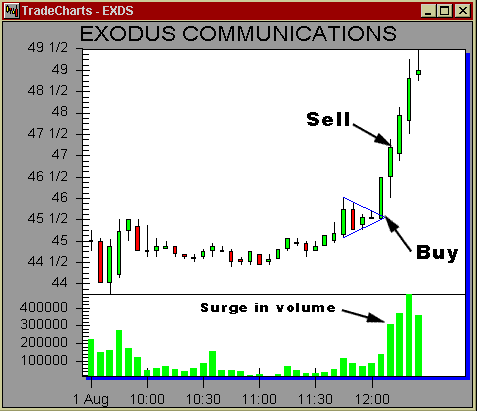 Exodus Communications [EXDS] provided a great trading opportunity today (8/1/00).
Graphic provided by: Tradecast Securities, Inc..
At 12:05 pm (EST) all of the above three conditions were met and I entered a long position at 45 11/16 and placed a stop at 45 9/16. As you can see the trade was in my favor. I exited my position at 47 1/4 only because I had surpassed my daily goal. The signs were still bullish and I could have still held on to my position for a little longer and made a greater profit.


---
Jayanthi Gopalakrishnan
---
Click here for more information about our publications!
PRINT THIS ARTICLE