Writing in his classic book, How To Make Money In Stocks, author, investor, and founder of the business newspaper Investor's Business Daily William O'Neil said of cup-with-handle patterns:


One of the most fundamental chart-based price patterns looks like a cup with a handle when the outline of a cup is viewed from the side. Cup patterns last, in time duration, from seven to as many as 65 weeks (most are usually three to six months). The usual percentage correction from the absolute peak to the low point of the price pattern varies from 12% or 15% to 33%.
Your mileage may vary, but there's no doubt that cup-with-a-handle or, simply, cup with handle patterns are in the pantheon of favorite chart patterns for most technical analysts. In part, this is probably because the patterns embody so much of what technical traders look for when trying to find stocks that are ready to move. Bases with contracting volume, repeated tests of resistance, breakouts on increasing volume ... all these are features not just of cup with handle patterns, but key aspects of price action that technical traders tune in to when searching the markets for stocks.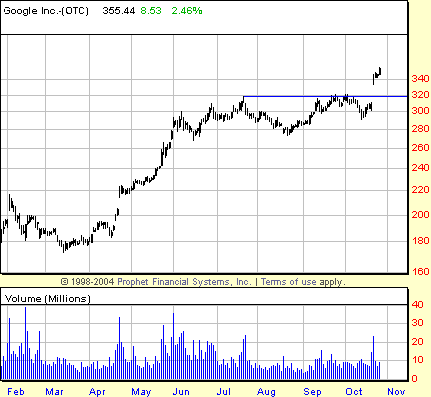 FIGURE 1: GOOGLE'S CUP WITH HANDLE. A cup with handle pattern in Internet favorite Google sends shares soaring higher in late October after a base and contraction in volume that extends back to mid-July.
Graphic provided by: Prophet Financial, Inc.
The tell-tale sign of a cup with handle pattern is, of course, the shape of the pattern. Typically, the cup with handle begins with a high and continues with a gradual pullback/correction and gradual rise back to the level of the previous high. This gradual pullback and gradual rise is generally scallop-shaped -- much like a cup or a bowl or a saucer.

Returning to the level of the previous high, prices pull back again -- albeit in a much shorter and much less severe fashion than before during the "cup/bowl/saucer" stage of the pattern. This smaller, secondary pullback from the highs is what is referred to as the "handle" of the pattern. As prices rally from this smaller correction and break out to new highs, they are generally accompanied by an increase in volume that in some instances can be quite dramatic. See Figure 1.



The cup with handle pattern in Google is impressively classic. We have the initial high at approximately $320 in mid-July after a dramatic runup in price (three months previous, shares of GOOG could be had for $190). Such a dramatic runup called for a period of consolidation and, from mid-July to October, that is just what Google did. Note how volume contracted as the consolidation unfolded, allowing the share price to sag as low as $275 or so, but never making a significant new low relative to the rally that preceded the consolidation.

Volume during the consolidation picked up in September as prices moved from the low point of the "cup" part of the cup with handle, but stabilized in September as prices ran into resistance at the level of the old highs from mid-July. This resistance was what allowed Google to pull back once again briefly, forming the "handle" part of the cup with handle pattern.



The handle in Google's cup with handle was short-lived, as the bulls piled into the stock in mid-October, launching the stock on overwhelming volume from near $310 to $330 virtually overnight. Followthrough to the upside -- always an important component of a breakout -- was immediate, as buyers continued to bid shares of Google higher, with the stock recently closing north of $355.

How does Google's current price compare with the price projection suggested by the size of the cup with handle formation? With a formation low at approximately $280 and a breakout level at $320, we can add a formation size of 40 to the value at the breakout to get a minimum upside target of approximately $360. And given some of the wild, recent price projections by Google's most ardent fans and enthusiasts, the measly five bucks it would take for Google to reach the target suggested by its own price action seems very little to ask from the stock of the most "can-do" company in years.