PRINT THIS ARTICLE
TECHNICAL INDICATORS
---
Short-Term Trading: Trading Pullbacks
10/14/05 12:02:27 PM
---
by Paolo Pezzutti
---
Jeff Cooper's methodology is based on profiting from pullbacks in a strongly trending market.
Security:
N/A
Position:
N/A
One of the principles behind the nature of markets is that strongly trending markets pull back for a few days and then resume their trends. This principle has been exploited over and over. In his book Hit And Run Jeff Cooper wrote about it, and Larry Connors and Linda Raschke wrote about it in their Street Smarts, where they illustrated that strong trending markets tend to pull back to their 20-day moving average before rising again. A runaway market will take a few days' rest before continuing its trend, especially in the early stages of the move.


Here, I will describe one of the many tactics that thrive on pullbacks in a trending market: Jeff Cooper's "The five-day momentum" methodology. The rules suggested are:

- The ADX has to be 35 or higher to indicate that a strong trend is ongoing. Its DMI+ reading must be above its DMI- reading. In a downtrend the opposite is true.
- The eight-period FastK of the stochastics oscillator must drop to 40 or below in an uptrend. This means the market is oversold and after the pullback, it is likely that it will resume its original trend. In a downtrend, the FastK must go to 60 or above. The stochastic oscillator provides the calculation of the values FastK, FastD, SlowK, and SlowD.
- The price of the stock should be in the $40-$50 level.



Let's see this methodology in action:

- Today, you have the setup (day 1). The ADX is at 35 or higher and the FastK is at 40 or below.
- Place a buy-stop tomorrow (day 2) one tick above today's high. If you are not filled, you will look to buy the next day (day 3), placing a buy-stop one tick above day 2's high.
- Upon being filled, the stop-loss is placed one tick below the previous day's low. If you are not stopped out, exit the trade on the close four trading days from today (this keeps you in the position for five trading days). You can consider selling half of your position when you have enough profits. As an alternative, you can also apply a trailing-stop methodology.

The opposite rules are true in a downtrending market with DMI- above DMI+ and FastK above 60.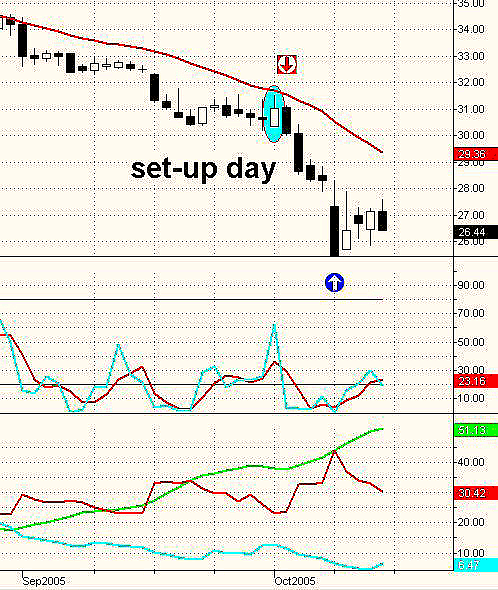 FIGURE 1: GM. Here's an excellent setup during GM's strong downtrend.
Graphic provided by: TradeStation.
In Figure 1, we can see a very lucky setup of this methodology last week on General Motors (GM):

- The stock is in a strong downtrend. The ADX is above 35.
- An up day in a congestion area brings the FastK above 60. You place a short sell-stop order for the next day one tick below the low.
- The next day (red arrow) you are filled. It is a downtrend day.

It is an excellent trade, difficult to find one like this. You have five consecutive down days. The fifth day brings you a windfall of profits: You exit on close.



There aren't many trades like this. Typically, you will see many small losses and some big wins. Similar to other short-term setups, it needs clear stop-loss and money management rules. I would not apply the rules mechanically, because this is not a trading system. The concepts behind the methodology find applications also in many other short-term tactics. It is up to you to select the most suitable to your trading style and market conditions.


---
Paolo Pezzutti
He is the author of the book "Trading the US Markets - A Comprehensive Guide to US Markets for International Traders and Investors" - Harriman House (July 2008)
| | |
| --- | --- |
| | Rome, Italy |
| E-mail address: | pezzutti.paolo@tiscali.it |
---
Click here for more information about our publications!
Comments
Date:
 10/21/05
Rank:
 3
Comment:
Date:
 10/27/05
Rank:
 5
Comment:
PRINT THIS ARTICLE