PRINT THIS ARTICLE
---
A Stock For Your Watchlist
07/27/00 09:24:11 AM
---
by Jayanthi Gopalakrishnan
---
It is evident from the chart of Qualcomm, Inc. [QCOM] that after going through a sharp decline, the stock is in a consolidation range. This suggests that the stock is fluctuating between its support and resistance levels as displayed on the chart.
Security:
QCOM
Position:
N/A
Under such a scenario, the most effective indicator to use is an oscillator which identifies tops and bottoms, making it easier to anticipate reversals. One such oscillator is the stochastic oscillator.


The stochastic oscillator identifies areas of overbought and oversold territories. When the oscillator is at the 80 level, it suggests the security is overbought whereas if it is at the 20 level it indicates it is oversold. Further, a crossing of the fast line (green) above the slower line (red) generates a buy signal whereas a crossing of the fast (green) line below the slow (red) generates a sell.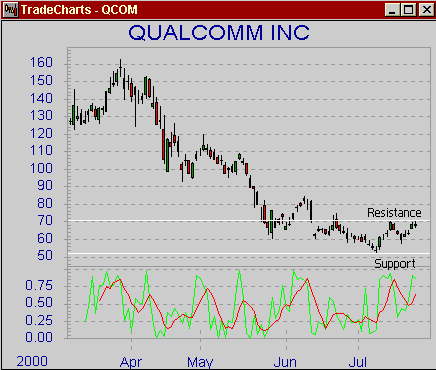 Is Qualcomm, Inc. [QCOM] going to break out of its trading range? The upper half of the chart shows QCOM's daily price range for the past four months, and the lower half shows the corresponding fast (green) and slower (red) stochastic lines.
Graphic provided by: Tradecast Securities, Inc..
From the chart you can see that QCOM has hit its resistance level. Does this mean that the stock is ready to head south? There is no way to tell but it's important to monitor the chart to anticipate price direction. The fast stochastic line has not crossed below the slower one. Only when this crossing takes place will you be able to determine if it's a sell signal.


Keep in mind that you are dealing with the stock market where changes take place rapidly. Prices may move in a direction that you had not anticipated. If you decide to enter a short position when the faster stochastic line crosses the slower one, place a stop loss order just in case prices reverse. Prepare yourself to trade if prices look like they may break out of the trading range. This means you will have to apply different indicators to generate appropriate buy and sell signals.


---
Jayanthi Gopalakrishnan
---
Click here for more information about our publications!
Comments
PRINT THIS ARTICLE