PRINT THIS ARTICLE
TRADING SYSTEMS
---
Aligning Trading Systems And Markets-Part 1
07/21/00 02:33:31 PM
---
by Dr. RM Sidewitz
---
Using the wrong system for a specific market makes for a quick ride to failure.
Security:
N/A
Position:
N/A
Before implementing a trading system you need to identify the market conditions. There are three possibilities: trending, trendless or highly volatile markets. Each is identified by a characteristic type of price action, and in this series of articles I will discuss each of these markets, first focusing on trending markets.


A trending market is identified by a substantial increase or decrease in price extended over a considerable period of time. It is characterized by sustained directional moves in price with occasional and short-lived corrections. An example of a trending market is shown in the chart below of Dell Computer Corporation [DELL].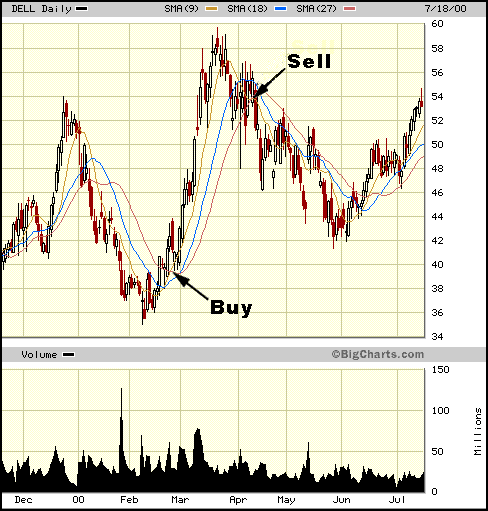 A popular trading system to apply in trending markets is the moving average crossover system. Here you can see that the crossovers trigger effective buy and sell signals when the stock is in a strong trend.
Graphic provided by: www.bigcharts.c.
Almost all markets trend 20% of the time or less. The remainder of the time is spent in a directionless phase. In order to catch the big trend early, you must be willing to be in the market all the time.


Once you identify a trending market, you need to apply a trend following system. These systems catch the wave of a trend and ride it until it is exhausted. Most of these systems create profits on a small number of trades and have a relatively low percentage of wins. If you are using this type of system you should be aware that more often than not you will receive false signals and will have several losing trades. However, designed properly, a trend following system experiences small, albeit frequent, losses.


Trending systems are difficult to trade since they don't provide much in the way of psychological reinforcement. You will find more losing trades than winning ones and because of this you can experience significant drawdowns. However, on balance, you can earn huge profits when a long-term trend takes over.

One popular trend following system is the moving average. You can use single, double or triple moving average systems and their derivates when you identify a trending market. The chart of DELL shows how you can apply moving average systems to a trending market.

In the next article I will discuss the application of appropriate trading systems in trendless markets.


---
Dr. RM Sidewitz
Dr. Sidewitz is the President, Chief Executive Officer and founder of Qi2 Technologies, LLC, an investment management company and the Managing Member of Qi2 Partners LP, a domestic hedge fund. Dr. Sidewitz began his career on Wall Street in the mid-1960s with Moody's Investors Service. He then served as the Assistant Director of Research for a registered broker/dealer until 1971. In the ensuing years, he continued his pursuits as a private investor during which time he developed the proprietary methodology that is used by the Limited Partnership. Dr. Sidewitz is the author of two books, "How I Double My Money Annually in the Market" and "How to Stop Sabotaging Your Trading Success: Mastering the Inner Realm". He is a frequent contributor to numerous financial publications and continues to work closely with private clients.
Title:
Managing Partner
Company:
Qi2 Technologies LLC
Address:
4800 Baseline Road, Suites E104-370
Boulder, CO 80303
Website:
www.cybrlink.com
E-mail address:
doc@cybrlink.com

Traders' Resource Links

Qi2 Technologies LLC has not added any product or service information to TRADERS' RESOURCE.
---
Click here for more information about our publications!
Comments
Date:
 / /
Rank:
 4
Comment:
 too short!
PRINT THIS ARTICLE