Everyone knows that bears love honey. But in recent months, it appears as if bears have taken a liking to cocoa as well. With the negative divergence in March, cocoa futures turned bearish just above the 1850 mark and spent the next two and a half months gapping down, breaking support, plunging through moving averages ... if you remember the old Eddie Murphy joke about his aunt falling (endlessly, it seemed) down a flight of stairs, then you'll get where I'm coming from about cocoa.


But has that calamitous collapse finally ended? Price action in early June would seem to suggest so, as a surge in volume accompanied a strong move off the lows on June 14. Not only has the breakout above about 1475 held, but the break above 1500--more than eight days later--has also held. Now, in the second half of June, it appears as if both the 10- and 50-day exponential moving averages (EMAs) will have an opportunity to play the role of support.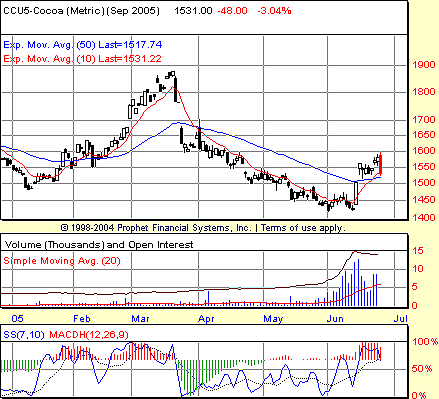 Figure 1: The bottoming action in June looks to conclude a season of bearishness forecast by both the short-term negative stochastic divergence and the longer-term negative MACDH extreme in March.
Graphic provided by: Prophet Financial, Inc.
Further evidence that September cocoa may have put in a bottom in June comes from the moving average convergence/divergence histogram (MACDH) extreme to the downside in late March. This extremely negative reading suggested that the then-current declines in price--already sharp when the MACDH extreme was reached--would lead to more declines before any meaningful upside could be achieved.

This bearishness was realized in subsequent months (Figure 1). September cocoa was at 1620 when the MACDH made its extreme low; it was trading near 1524 a month later, and near 1438 a month after that.



In June, however, September cocoa managed to stem its decline and stage a sudden reversal to the upside. As both the 7,10 stochastic and the increasingly positive MACDH peaks throughout spring 2005 suggested, this bounce may have been sudden, but it should not necessarily have been too much of a surprise. While there wasn't the kind of clear-cut positive stochastic divergence that some of the most resounding bottoms develop, it was clear that cocoa was quite oversold, and that bulls (by way of the MACDH) were getting increasingly interested in "underpriced" cocoa.

The problem with sudden bounces, of course, is that they are often easily reversed. And while these reversals often inflict a measure of pain on the earliest adopters of the new advance, they need not be entirely ruinous to those looking for more upside movement. Here, September cocoa has developed a short-term negative stochastic divergence just as it rallied above its 10- and 50-day EMAs. The short-term nature of this negative divergence is a perfect fit for a pullback that would allow cocoa futures to become a bargain again for those bulls who wanted a piece of the action--but at a price closer to 1500 than 1600.



The price action on June 24 suggests that this opportunity may have already gotten under way. While sideways action is no less likely to result from a negative stochastic divergence than downward action, traders should be prepared for both contingencies: a riding out (and wearing out) of the overbought condition suggested by the negative stochastic divergence, or a plunge back below the two moving averages toward a test of the early June declines.