PRINT THIS ARTICLE
DOW THEORY
---
Nonconfirmation Comes To The Averages
06/24/05 07:56:21 AM
---
by David Penn
---
Dow theory nonevent or not, the lack of confirmation between the transports and industrials in June provides the bears with hopes of a summer reversal.
Security:
$INDU, $TRAN
Position:
N/A
Why do I continue to insist that nonconfirmations between the Dow industrials and Dow transports are Dow theory "non-events"? The short answer is, because Robert Edwards and John Magee said so:



There is an unfortunate tendency in the "street" to overstress any such divergence, particularly when it can be twisted into a favorable sign. The fact is that, in Dow Theory, the refusal of one average to confirm the other can never produce a positive signal of any sort. It has only negative connotations. Divergences sometimes occur at reversals in the Major trend ... but they also occur with at least equal frequency at times when no Major reversal is developing ...


So a Dow theory "nonevent"--as I have qualified the point elsewhere--does not mean the nonconfirmations are of no use to market technicians. It simply means that they do not produce a "positive" or actionable signal, in and of themselves.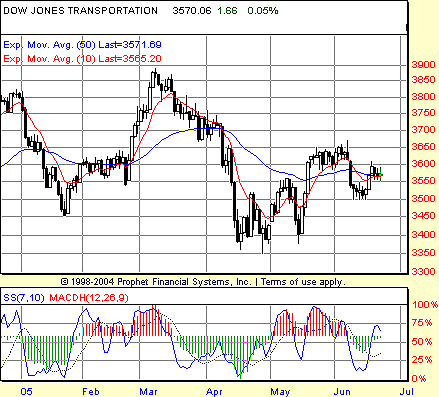 Figure 1: The rally that began in mid- to late April failed to exceed the April highs as the transports appeared to reverse early in June.
Graphic provided by: Prophet Financial, Inc.
This understanding, as Edwards and Magee note, does not mean that nonconfirmations can't mark reversals in what they refer to the Major trend. And it is this understanding that I am gaining some appreciation of as I look at the failure of the Dow transports in June to confirm the Dow industrials advance beyond the April 2005 highs (Figure 1).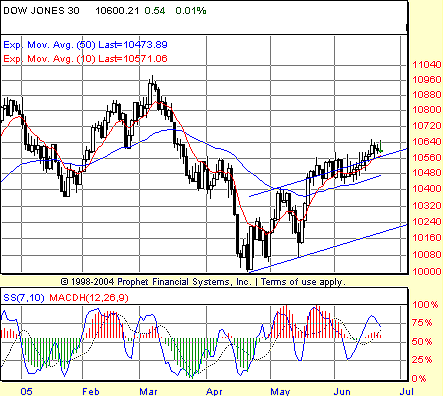 Figure 2: However weakly, the Dow industrials nevertheless managed to exceed their April highs in June.
Graphic provided by: Prophet Financial, Inc.
Looked at this way, the relative bullishness of the industrials is somewhat less comforting. Trading above its 10- and 50-day exponential moving averages (EMAs), and working its way above the upper boundary of the trend channel that bounds the rally from the April lows, the industrials indeed look capable of moving higher (Figure 2).


But the bullishness of the industrials is truly countered by the relative bearishness of the transports. The transports fell below their 50-day EMA just as the industrials were pulling back toward and bouncing up from their 50-day EMA. And while the transports have climbed back to make marginally higher closes above the 50-day, there remains significant resistance at the 3600 that will have to be overcome--to say nothing of the April highs north of 3750--before the transports will be said to have confirmed the bullishness of the industrials and, by extension, the bullishness of the overall market.


---
David Penn
Technical Writer for Technical Analysis of STOCKS & COMMODITIES magazine, Working-Money.com, and Traders.com Advantage.
---
Click here for more information about our publications!
Comments
Date:
 06/25/05
Rank:
 3
Comment:
PRINT THIS ARTICLE