PRINT THIS ARTICLE
ON BALANCE VOLUME
---
Bowl Pattern Confirmation
07/17/00 08:32:15 AM
---
by Dennis D. Peterson
---
On-balance volume and money flow are two commonly used indicators. Understanding how to use them can provide additional confirmation of a pattern.
Security:
IVGN
Position:
N/A
In my last posting I cited on-balance volume (OBV) and money flow (MF) as having confirming trends for a reversal pattern. On-balance volume is a measure of whether money is flowing into or out of a security. If the security closes higher than the day before then all of the volume is added to the previous sum. If it closes lower then the volume is subtracted, giving you a running total. It answers the question that -- on balance-- has money moved in or out as far as volume is concerned?


When using a leading indicator, such as the OBV and MF, you should focus on their trendlines. Shown in Figure 1 is the OBV, and its trendline clearly predicts an upward move for the right side of the bowl. A downtrend is seen in the left side of the bowl. The fact that both the OBV uptrend and downtrend have a shallow slope confirms a bowl pattern.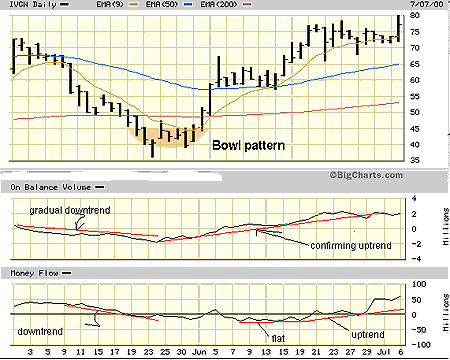 I also used the money flow indicator. The MF is a cumulative total of the change in today's closing price minus yesterday's close, multiplied by the volume. If today's close is higher than yesterday's, a positive value is added. And if it is less that yesterday's close, a negative value is added. This daily running total also gives a measure of whether money is flowing in or out of a security. Again, we look at the trend to see if we have confirmation. In Figure 1 we can see the flattening, from June 8th through June 21, in the MF trend that warns us of a potential divergence.


The price action follows both of the trends. From the OBV an overall uptrend is seen, and from the MF we see that the uptrend will have some hesitation.


---
Dennis D. Peterson
Market index trading on a daily basis.
---
Click here for more information about our publications!
PRINT THIS ARTICLE