A little over two months ago, I wrote about the fortunes of coffee futures. At the time ("Coffee's Bear Flag," Traders.com Advantage, April 12, 2005), coffee futures were breaking down below their 50-day exponential moving average (EMA), courtesy of the downside of a bearish flag pattern.


Given the measurement rules applicable to flag patterns, I suggested that coffee futures (basis May) would probably fall at least to 110. Again, basis May, coffee did that much but little more, as the futures registered a low of 109.75 on April 15.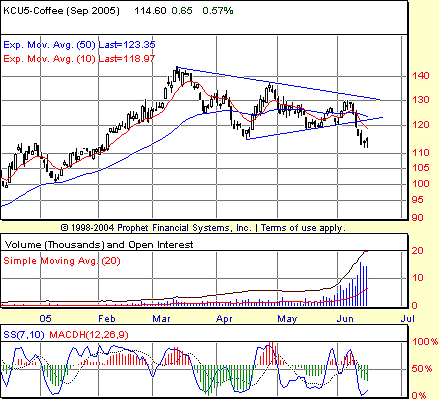 Figure 1: The breakdown from this symmetrical triangle suggests a downside that will bring coffee back from "dollars" to "cents."
Graphic provided by: Prophet Financial, Inc.
Using September futures in Figure 1, we can see that when the breakdown from the bear flag ended, prices rallied back above the 50-day EMA in April--only to fall back below that level in May. June found September coffee back above the 50-day period early in the month, yet as the days work toward mid-month, coffee futures were fading once again.


This sort of back-and-forth movement, involving lower highs and higher lows, created a symmetrical triangle pattern. Contracting triangle patterns--whether they are symmetrical, ascending, or descending--tend to lead to explosive price moves, in part because the price contraction that occurs as these patterns develop compresses volatility below its usual, or historical, norm. Eventually, prices will tend to revert to their historic volatility, and that process of "reversion to the mean" is what leads to the often-dramatic breakout or breakdown.


What can traders look for in the way of a breakdown from this triangle? At the formation's widest point, the triangle measures some 25 points from top to bottom. Subtracting that amount from the value at the breakdown (approximately 120), traders should look for a downside move into the 95-cent area.