Writing about the 2B top in his book, Methods Of A Wall Street Master, trader and educator Victor Sperandeo notes that:




In an uptrend, if a higher high is made but fails to carry through, and then prices drop below the previous high, then the trend is apt to reverse. The converse is true for downtrends. This observation applies in any of the three trends: short term, intermediate term, or long term.


This is as good and succinct a definition of the 2B reversal as you're going to find. Although the same idea has been discovered by other traders (Larry Connors' similar techniques are called "Turtle Soup" and "Turtle Soup Plus One"), it was in Sperandeo's work that I first came across the reversal setup.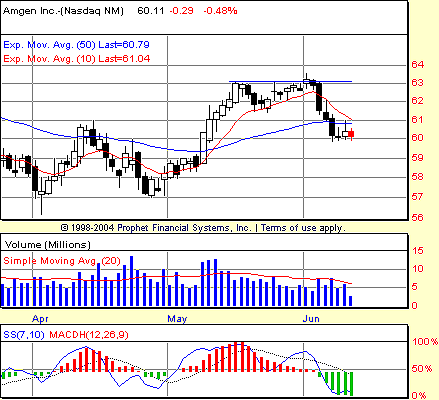 Figure 1: After failing to follow through on the higher high in June, shares of AMGN reversed to the downside on a significant increase in volume.
Graphic provided by: Prophet Financial, Inc.
The reversal in Amgen, one of the leading stars of the biotechnology group, is so far proving to be a worthwhile example of the 2B top in action. For context, it is worth noting that the topping process in May and June was a secondary one, with AMGN having fallen from a higher peak in late December (Figure 1). Nevertheless, as Sperandeo notes, 2Bs can exist in a number of different time frames, from minor highs and lows that complete 2Bs in a day or two, to intermediate highs or lows that last from three to five days, to longer-term 2Bs that can represent major turning points in a market and may require as much as a week or more for the pattern to be completed.

In the case of AMGN, it appears as if 11 days transpired between the high in mid-May and the higher high in early June--which suggests that the current reversal could be a significant one indeed. With AMGN already down more than three points from its June high and slipping beneath its 50-day exponential moving average (EMA) in recent days, the notion of continued declines in this stock is not a remote one.



At this point, the clearest source of support for AMGN is at 57, the lows of April (I'm excluding the intraday low early in April that neared 56.25). Right now, AMGN appears to be relying on the not-insignificant support typically provided by the 200-day simple moving average (as shown in Figure 2). Should that support fail, then a test of the April lows seems all but assured.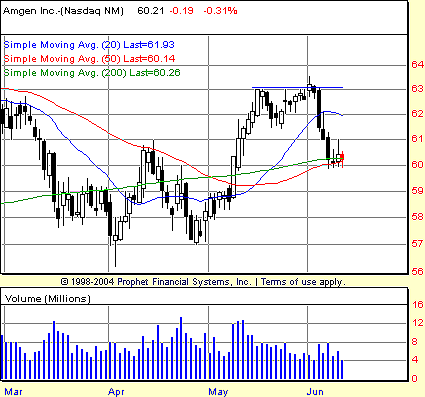 Figure 2: The 200-day simple moving average provides support during AMGN's June decline.
Graphic provided by: Prophet Financial, Inc.