There's an old lament in Mexico that goes, "Poor Mexico: so far from God, so close to the United States."


That saying came to mind as I looked at a chart of the Internet sector HOLDRS, or HHH, this afternoon. I don't know if stock investors, speculators, and traders have made the switch from bear market fear (induced by the declines of March and April) to bull market greed (induced by the May rally). I don't know if many markets, such as semiconductor stocks, have advanced so far that it has become financially fashionable to pooh-pooh all their hard work over the past few weeks.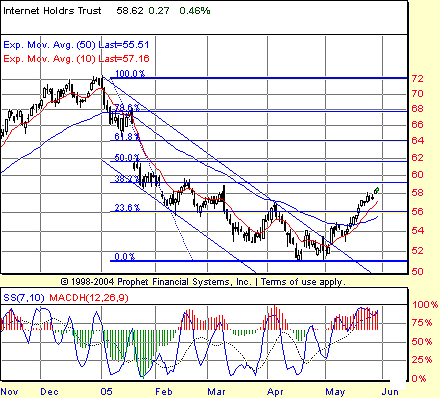 Figure 1: HHH. Even after six weeks of advancing prices, HHH has yet to retrace even 38.2% of its nearly four-month decline.
Graphic provided by: Prophet Financial, Inc.
But like Mexico, the HHH has as much to lament as to be grateful for. Because while the Internet sector has performed admirably, moving up from mid-April lows near 51 to more than 58 in the span of six weeks, Figure 1 clearly shows that the HHH has retraced precious little of its year-long decline.


The reversal in HHH is clear. While the moves were not great, the HHH did in fact break its downtrend line to the upside, pull back in an attempt to resume the downtrend, and then move back up and through the extreme point of the initial trendline break. This much is consummate with a 1-2-3 trend reversal (see my "Rallies And Fibonacci Retracements," May 27, 2005; Traders.com Advantage).


However, what have the Internet tradables got to show for their troubles? So far, the HHH has yet to retrace even 38.2% of its previous decline. This suggests one of two things: that the Internets have a lot further to go on the upside, or that the Internets are so weak that their bounce in late spring--a bounce that has sent, for example, the QQQQ soaring toward a test of its 61.8% retracement level--will be muted and their return to a bearish trend swift.

So far, the stochastic is showing no negative divergence--the sort of technical signal that might anticipate a reversal. Given the angle of HHH's ascent so far, such a reversal would probably be welcomed by many--assuming the reversal is a relatively mild one. For in the absence of a pullback, there really is no place for HHH to go from here but straight up. And even if it pulls off that feat, there are few traders left who still believe that vertically rising Internet stocks--in 1999 or 2005--are a wager worth taking.