PRINT THIS ARTICLE
TREND-CHANNEL
---
QQQQ Channel Pairs
05/24/05 07:48:05 AM
---
by David Penn
---
Another example of channel pairs characterizes an intraday ascent in the QQQQ.
Security:
QQQQ
Position:
N/A
Recently, I wrote about a pair of trend channels in the US dollar ("Channeling The Dollar," May 19, 2005; Traders.com Advantage). The idea of channel pairs came to me from my study of Elliott wave analysis, but--as I've said before--trend channels are a fundamental part of technical analysis in general.


What is most interesting about trend channel pairs, however, is that they can be used to reliably plot when the advance in a market moves into its most aggressive mode.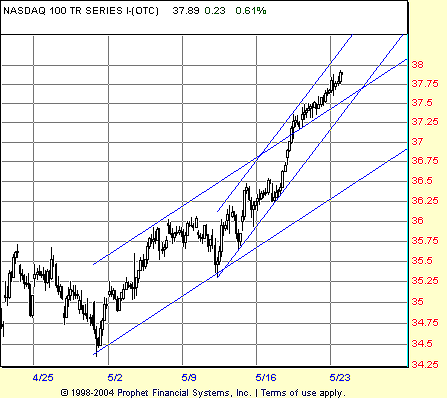 Figure 1: QQQQ. Even when going near vertical, the QQQQ moves from incline to ever-steeper incline as its rally grows and matures.
Graphic provided by: Prophet Financial, Inc.
Figure 1 is an hourly chart of the QQQQ, which does a good job of showing how that aggressive mode develops in an uptrend. The QQQQ bottomed late in April and began advancing into May. This advance was contained in an upward trend channel with confirmed touches on the morning of May 6 and around noon on May 11.


It is the rally from the second touch on May 11 that sets the stage for a new trend channel. This new smaller and more steep trend channel has several touches or near touches on both its upper and lower boundaries--especially as the QQQQ works its way to the upper half of the old trend channel. However, as the QQQQ moves toward midmonth, it is increasingly clear that the new channel is likely to be a better guide to the near-term direction of the QQQQ than the old channel.

Finally, the QQQQ makes a strong, nearly vertical move upward toward a test of the old channel. Interestingly, violation of the upper boundary of the old trend channel constituted confirmation of the upper boundary of the new trend channel as the market moved into the second half of the month.



As I wrote in "Channeling The Dollar," my best guess is that the QQQQ will find support on the upper boundary of the old trend channel--having broken through that level back on May 18--for the duration of the advance. As with previous bullish channel pairs--such as the one that led to the market top in March 2005--first signs of trouble will likely come from breaking the support of the new trend channel, then from a move toward--and possible violation of--the lower boundary of the old trend channel.


---
David Penn
Technical Writer for Technical Analysis of STOCKS & COMMODITIES magazine, Working-Money.com, and Traders.com Advantage.
---
Click here for more information about our publications!
Comments
Date:
 05/24/05
Rank:
 3
Comment:
PRINT THIS ARTICLE