PRINT THIS ARTICLE
ELLIOTT WAVE
---
Networking Index Traces out An ABC
05/23/05 10:05:33 AM
---
by Arthur Hill
---
The long decline in the Amex Networking Index looks like a normal ABC correction that may have just ended.
Security:
$NWX
Position:
Accumulate
On the weekly chart of the Amex Networking Index ($NWX) (Figure 1), the index advanced more than 300% from October 2002 to January 2004 (79 to 337). There were two relatively minor consolidations along the way (gray ovals), but no real correction or pullback. The advance was massive, and this allows for a large correction. A typical correction would retrace 50-62% of the prior advance, and the decline from 337 to 187 fits the bill so far. In addition, the decline has an Elliott ABC structure and is finding support around 200.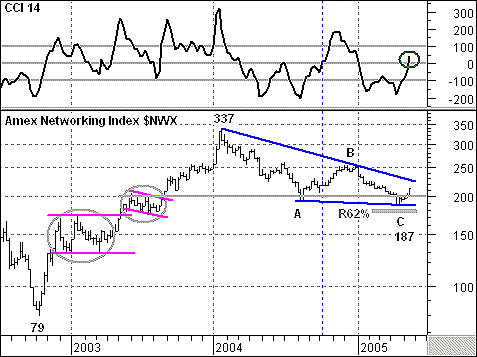 Figure 1: $NWX. On the weekly chart of the Amex Networking Index, the index advanced more than 300% from October 2002 to January 2004 (79 to 337).
Graphic provided by: MetaStock.
Graphic provided by: Reuters Data.
This is a logical place for support and a bullish reversal, but a signal is required before turning bullish. I have applied the commodity channel index (CCI) to gauge momentum. In general, momentum favors the bulls when CCI is above zero (midpoint) and the bears when CCI is below zero. The indicator was below zero for most of 2005 and recently surged into positive territory for the first time since early January. This tells me that momentum is shifting toward the bulls and to prepare for more gains. In addition, note that CCI surged above zero in October 2004 and then led to further gains (blue dotted line).


Further strength is required to turn the actual price chart bullish. First, the index would need to break above the trendline extending down from 337. Second, the index would need to forge a higher high with a move above the December 2004 high (wave B). Currently, the index formed a lower low at 187 and remains in a downtrend. A move above the wave B high would signal a continuation of the October 2002 to January 2004 advance and project a move above the 337.


---
Arthur Hill
Arthur Hill is currently editor of TDTrader.com, a website specializing in trading strategies, sector/industry specific breadth stats and overall technical analysis. He passed the Society of Technical Analysts (STA London) diploma exam with distinction is a Certified Financial Technician (CFTe). Prior to TD Trader, he was the Chief Technical Analyst for Stockcharts.com and the main contributor to the ChartSchool.
Title:
Editor
Company:
TDTrader.com
Address:
Willem Geetsstraat 17
Mechelen, B2800
Phone # for sales:
3215345465
Website:
www.tdtrader.com
E-mail address:
arthurh@tdtrader.com

Traders' Resource Links

TDTrader.com has not added any product or service information to TRADERS' RESOURCE.
---
Click here for more information about our publications!
Comments
Date:
 05/23/05
Rank:
 3
Comment:
PRINT THIS ARTICLE