PRINT THIS ARTICLE
ISLAND REVERSAL
---
General Motors: Island Formation
05/23/05 11:10:36 AM
---
by Paolo Pezzutti
---
This technical formation often signals major trend changes.
Security:
GM
Position:
N/A
After the Standard & Poor's ratings services downgraded the billions of dollars debt owed by General Motors and Ford to "junk," borrowing costs for the nation's two biggest automakers increased. GM stock tumbled but the company said there was no risk of a cash crunch. However, the company is losing market share at home to Asian competitors (mainly Toyota), and it is facing big issues about health care and post-retirement liabilities. In the first four months of the year, GM's US sales fell nearly 5%. GM bonds also fell significantly; as an example, in the past few weeks, the July 2013 bond plummeted from about 103 to 73! GM said it had $19.8 billion in cash at the end of the first quarter, and GMAC had $18.5 billion in cash and securities. For sure, the company can now expect to pay substantially higher interest rates on funds it may borrow. And those numbers are enormous: GM paid about $12 billion in interest on debt last year. In all, GM's consolidated debt as of March 31 was $291.8 billion, as reported by the press. Eventually bringing price relief was news that billionaire investor Kirk Kerkorian's Tracinda Corp. offered to pay roughly $870 million to acquire an additional 5% stake in GM, which sent the stock of the beleaguered auto maker racing to its biggest one-day gain in more than 20 years on May 4.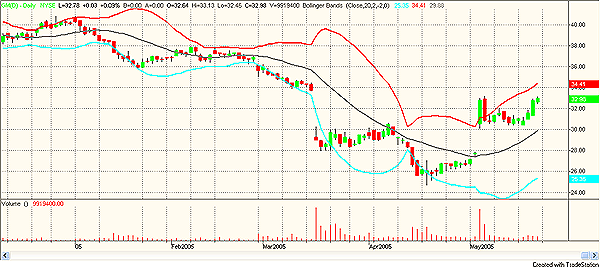 Figure 1: GM. The stock moved down from the $40 level in December 2004 to less than $26 in April 2005.
Graphic provided by: TradeStation.
A lot of pessimism revolved around the automaker giant. So is GM a bargain at this price? From the fundamental perspective, it is difficult to say. The stock has been hit with a barrage of bad news for quite a long time. You could assume that prices have already incorporated the difficult situation of the company; often, it could be that the market is overreacting to bad news. Because of this, it is difficult to assess the "real" value of the company. Technically, GM is very interesting. As you can see in Figure 1, the stock moved down from the $40 level in December 2004 to less than $26 in April 2005. Even more interestingly, a big gap occurred on March 16 on huge volume. This started a congestion phase that lasted 19 days and it stumbled another 10% in three days! Slowly, it started what seemed, at the time, a pullback characterized by very low volume. On May 4, it printed a gap up of more than $2 with volumes similar to that on March 16, revealing an island formation. GM is now testing the trading range resistance based on the congestion zone that started after the formation of the second gap.


An island top is formed when prices gap higher after an extended advance, trade one or more days, leaving the gap open, and then gap lower. The converse is true for island bottoms. The market can trade for several sessions before the second gap in the opposite direction forms. This type of reversal often signals major trend changes. False signals, however, are common and you might want to wait and see if the second gap gets filled. This will reduce your risk, of course, but also the profit opportunity. It is the usual tradeoff between risk and reward, which has to be analyzed when making decisions, according to the trading style adopted.


---
Paolo Pezzutti
He is the author of the book "Trading the US Markets - A Comprehensive Guide to US Markets for International Traders and Investors" - Harriman House (July 2008)
| | |
| --- | --- |
| | Rome, Italy |
| E-mail address: | pezzutti.paolo@tiscali.it |
---
Click here for more information about our publications!
Comments
Date:
 05/23/05
Rank:
 3
Comment:
Date:
 05/24/05
Rank:
 4
Comment:
PRINT THIS ARTICLE