PRINT THIS ARTICLE
TRIANGLES
---
Gold's Bad Break
05/12/05 11:12:17 AM
---
by David Penn
---
News that the greenback surged to new highs against the euro was not good news for gold bulls.
Security:
GCM5
Position:
N/A
In a recent article for Working-Money.com, I made the case that a negative divergence between gold and gold shares was a bearish portent ("The Role Of Gold," May 4, 2005). To briefly recap, the idea is that gold and gold shares should trend together. When they are not, a divergence is created that often signals a change of direction. In the case of gold and gold shares, gold shares--as represented by the index of unhedged gold shares or $HUI--topped fully one year before gold (which appears to have topped in late 2004).


Another aspect of gold that I highlighted at length in the Working-Money.com piece was a sizable symmetrical triangle that began in December 2004--and from which gold appears to have broken down in mid-May 2005 (Figure 1).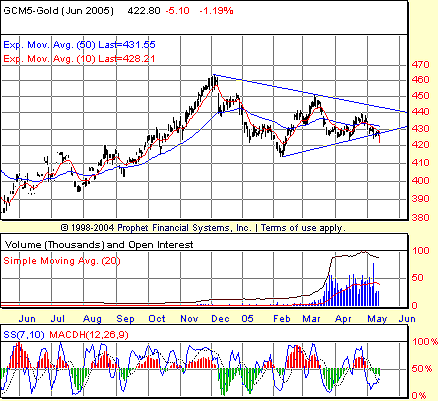 Figure 1: Gold. A breakdown from this symmetrical triangle in June gold futures could be dramatic. Evidence of real strength in the breakdown will come if the two previous lows in April and February are breached (and remain breached) during the decline.
Graphic provided by: Prophet Financial, Inc.
Measuring the triangle at its widest point--and subtracting that amount (approximately 47 points) from the value at the breakdown point (approximately 430)-- suggests a minimum move into the mid-300s for gold. While a decline to these levels would merely put gold closer to the midpoint of the bull market in terms of value (gold rallied from the high 200s in 2001 to the mid-400s in 2004), it would undoubtedly put a significant measure of fear in gold bugs that something terribly wrong was happening to their $500 (or even $1,000) gold thesis--and likely lead to even more selling.


Goalposts for the breakdown include the two previous lows in April--which already appears to have been breached--and in February at about $415. Should these potential support levels become and remain broken to the downside, then a rendezvous with the mid-300s seems all but assured for the yellow metal.


I can't help but add that the potential for a breakdown in the gold price--following the breakdown of gold shares a year ago (shares that are once again under pressure)--has serious implications for financial and monetary policy going forward (another topic discussed at length in the Working-Money.com article mentioned at the outset). For now, ask yourself the last time you heard concerns about deflation expressed by mainstream economists and financial pundits. A falling gold price is one of the most basic warnings that it might be an apt time to return to the province of those once-upon-a-time deflationary fears.


---
David Penn
Technical Writer for Technical Analysis of STOCKS & COMMODITIES magazine, Working-Money.com, and Traders.com Advantage.
---
Click here for more information about our publications!
Comments
Date:
 05/12/05
Rank:
 3
Comment:
Date:
 05/17/05
Rank:
 5
Comment:
PRINT THIS ARTICLE