PRINT THIS ARTICLE
HEAD & SHOULDERS
---
Crude Oil's Hourly Head And Shoulders Top
04/25/05 09:28:03 AM
---
by David Penn
---
A look at crude oil through the lens of the 60-minute chart suggests a possible reversal in crude oil's bull run.
Security:
CLN5
Position:
N/A
Writing in his Encyclopedia Of Chart Patterns, Thomas Bulkowski mentions a "surprising finding" with regard to head & shoulders tops:

"A down-sloping neckline or a lower right shoulder (versus left shoulder) predicts a larger decline, but results are not statistically significant."



Later, he adds in an observation about a specific head & shoulders top in Toll Brothers more than a decade ago:

"The down-sloping neckline suggests an especially weak situation."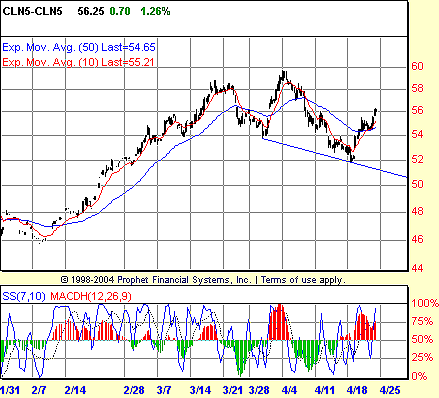 Figure 1: Crude oil. The downwardly sloped neckline suggests that a break below the low 50s could be severe for July crude oil futures. Note the negative stochastic divergence that is developing in the right shoulder of the potential pattern.
Graphic provided by: Prophet Financial, Inc.
I think about this as I look at the chart of July crude oil futures (Figure 1). The potential head & shoulders top in the daily charts seems well on its way toward completing a right shoulder. The neckline, which starts on March 30 at 54 and runs through to April 18 at 52, is especially sloped downward--so much so that I had to check both Robert Edwards and John Magee's Technical Analysis Of Stock Trends and Bulkowski to confirm the validity of such an exaggeratedly downward neckline. Statistical reservations aside, it seems as if crude oil does move down and through the lower, right-hand side of the neckline, and then a head & shoulders top will be complete.

What I was also looking for was technical evidence that the right shoulder--as a pattern in and of itself--might be topping. Specifically, I was hoping a negative stochastic divergence might be visible at a slightly shorter-time frame, a divergence that would be bearish for the rally since mid-April that makes up the right shoulder of this potential reversal pattern.



That negative stochastic is very much in play. The consecutively higher highs on April 20 and 22 in price are matched with--so far--consecutively lower highs in the 7,10 stochastic. What would be required would be for the stochastic to turn down on or shortly after April 22 without making a higher high vis-a-vis the level of the stochastic on April 20. While a top could still form without a negative stochastic divergence, the divergence remains a worthwhile sign to be on guard for--insofar as major tops are often characterized by this kind of pattern in the stochastic.


A last note: One thing that would have been bullish for crude oil futures would have been a positive stochastic divergence on the daily charts between the lows of March 30 and April 18. The fact that such a divergence did not occur helps create room for the reversal thesis I have outlined.


---
David Penn
Technical Writer for Technical Analysis of STOCKS & COMMODITIES magazine, Working-Money.com, and Traders.com Advantage.
---
Click here for more information about our publications!
Comments
Date:
 04/25/05
Rank:
 3
Comment:
PRINT THIS ARTICLE