Given my difficulties in dealing with the Standard & Poor's 500's "pseudotruncated" top in March ("The Count Right Now, Redux," Working Money, April 20-22) and the all-too-temporary low in mid-April ("Another Low, Another Punk Divergence," Traders.com Advantage, April 4, 2005), it is refreshing to have found more fertile analytic ground in crude oil ("Crude's 2B Top Comes To the Dailies," Traders.com Advantage, April 5, 2005), and the dollar ("The Dollar's March Divergence," Traders.com Advantage, March 15, 2005).


Another place where this analysis has been razor sharp has been in the bond market--particularly yields on the 10-year note. In late March, I suggested that these yields, tracked by the $TNX index, had topped temporarily ("The 10-Year Note's Temporary Top," March 25, 2005, Traders.com Advantage). In fact, if you look at the article, you'll note that the figure provided is an excellent screen capture of the precise top on March 23, taken intraday.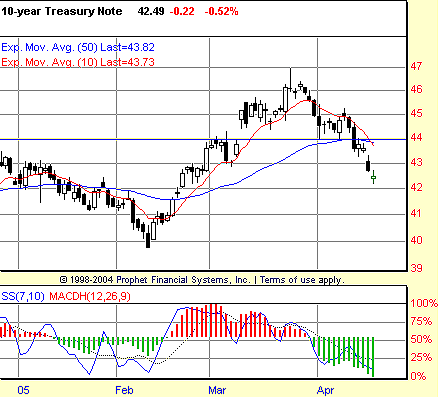 Figure 1: An island gap, a head and shoulders top, a negative stochastic divergence ... all signs are bearish as yields on the 10-year Treasury note move into April.
Graphic provided by: Prophet Financial, Inc.
That was then. In the days since, $TNX has fallen from an intraday high near $47 (or 4.7% on the 10-year) to just north of $42.50 by mid-April. While it was difficult--if not impossible--to anticipate how far down the correction might go back when I first wrote about the $TNX topping, that task is now easier, given the development of a island top in the form of a head and shoulders pattern (Figure 1).

The island gap is formed when prices gap into a consolidation and then gap away from it. Island tops occur when markets gap up into consolidations and then gap down back against the previous trend--and that certainly appears to be what has happened in the case of $TNX in April.



What is interesting about this island gap is that it has formed a head and shoulders top during its consolidation. This head and shoulders top has a neckline at about $44 (the low point of the gap up from early March) and a high of $47, suggesting a minimum downside of three points to the $41 level before the correction will have run its course.


Should $TNX fall to this level, then observers will no doubt anticipate a test of the February lows just south of $40. With the 7,10 stochastic moving toward a new low for April, the likelihood of $TNX finding a bottom before testing the $41-40 level is not especially great.