PRINT THIS ARTICLE
DOW THEORY
---
Dow Theory To The Downside
04/15/05 12:07:29 PM
---
by David Penn
---
Simultaneous closes below the January lows in the Dow industrials and transports is an unequivocally bearish development.
Security:
$INDU, $TRAN
Position:
N/A
This picture of the Dow industrials and transports tells you pretty much all you need to know about the current market environment.


I've written regularly about Dow theory confirmations and nonconfirmations for Working-Money.com. However, this snapshot could be so helpful for those wondering about the markets going forward in 2005 that I didn't want to wait around for Working-Money's relatively slower turnaround time to get these ideas out.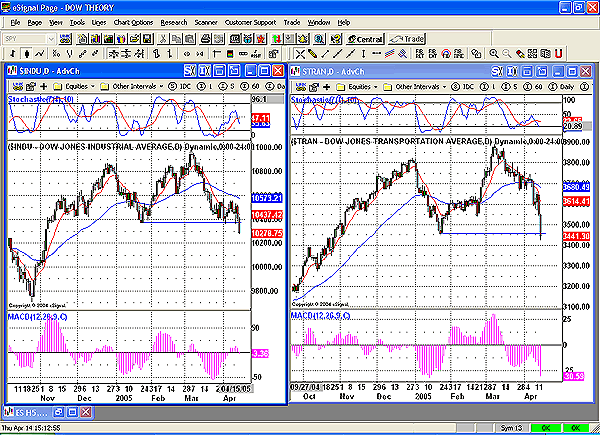 Figure 1: Dow industrials, transports. Confirmations are confirmations. But confirmations that occur simultaneously are hard-to-ignore signs that the markets are in gear, to the upside or the downside.
Graphic provided by: Prophet Financial, Inc.
One of the things I've observed about confirmations like this is that while they certainly underscore the likelihood of further price movement in the direction of the confirmation (downward, in this case), that movement is not always immediate. Indeed, as I wrote for Working Money in an article on Dow theory confirmations, confirmations don't necessarily mean "traders, get going," but instead often means something closer to "people, get ready."

In other words, the one thing that traders should not be surprised by at this specific juncture is a bounce--however short-covering oriented that bounce might be. Yes, both markets are oversold--and there will be no shortage of observers and bullish analysts eager to remind us of that fact. But what is more relevant than the mere fact that the markets are oversold is the growing possibility of a positive stochastic divergence accompanying the fresh new lows set on April 14.



Exactly what a positive divergence might mean is unclear. As I've been saying with regard to negative divergences, directional movement is as likely a consequence as sideways movement. So even if the industrials and transports developed positive divergences, it would not necessarily mean that strikingly higher prices over the balance of April are in the bag.


But it would be a warning to overstimulated bears, many of whom have been pining for a reprise of 2001-02 for many moons. And as the market is often wont to do, a bounce at this time would also be just the thing to convince similarly overeager bulls to bid the market higher one more time before the bearish confirmation of April 14 is realized in earnest.


---
David Penn
Technical Writer for Technical Analysis of STOCKS & COMMODITIES magazine, Working-Money.com, and Traders.com Advantage.
---
Click here for more information about our publications!
Comments
Date:
 04/15/05
Rank:
 3
Comment:
Date:
 04/20/05
Rank:
 5
Comment:
PRINT THIS ARTICLE