On CNBC's "Squawk Box" on the morning of March 23, the irresistible Rebecca Quick joined her colleagues in observing that there was nothing out there that made it look as if oil prices were headed any lower any time soon. I could imagine technical analysts throughout the viewing audience likely spilling their coffee and tripping over their dogs as they scurried after their charts of crude oil futures. "Nothing out there, huh?" I could further imagine them smirking as the candlesticks, moving averages, volume bars, and indicators blinked into life on computer screens across the United States and Canada. "Well, we'll see about that ..."


I say this because I'm surely not the only one who thought that there had to be some sort of bearish case--however tentative, however implausible--to be made for crude oil. If it is true that President Harry S Truman once demanded a "one-handed economist" in frustration over having to hear two answers to a question when one answer would have sufficed, then it isn't hard to imagine the ability of the technician to confound with various scenarios in which support might hold--or might not. Or how a breakout might extend further gains--or merely be a trap for bulls before a savage decline ...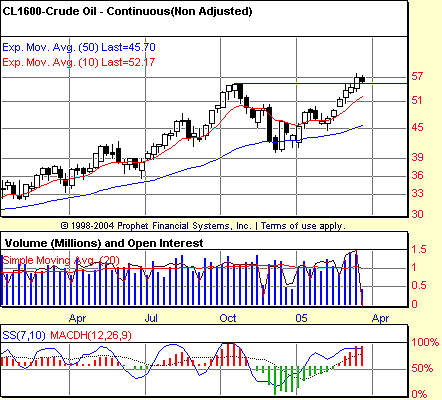 Figure 1: Crude oil. Failure to follow through to the upside in the first quarter of 2005 could signify that a reversal in crude oil is only a few weeks away. Note also the longer-term negative stochastic divergence building between the highs of the fourth quarter of 2004 and current highs late in the first quarter of 2005.
Graphic provided by: Prophet Financial, Inc.
Victor Sperandeo, in his book METHODS OF A WALL STREET MASTER, presents an entertaining anecdote about a technical analyst he once employed:

"When I asked him for recommendations, he would show me charts and say things like, "This stock might be forming a bottom," or, "This stock looks like it may fill in the gap." But whatever he said, it was always indefinite and always offset by a confusing array of other possibilities. I would ask, "Okay, but what should I do, buy or sell?" Leo just couldn't give me a simple, straight answer."

In addition to amusing anecdotes like this one, METHODS OF A WALL STREET MASTER also features a few tools to be able to respond to Rebecca Quick and her colleagues' virtual cry for a one-armed informant on the oil market. That tool is one I've discussed often in the past, the 2B test, most recently in connection with the Standard & Poor's 500 ("The S&P's Weekly 2B," March 17, 2005; Traders.com Advantage).



The 2B test--similar in most respects to Larry Connors' Turtle Soup and Turtle Soup Plus One setups--is a simple and straightforward way for traders and investors to game tops and bottoms in markets. The 2B test, as I wrote recently, suggests that when prices break to a new extreme--a new relative low or high--it is vital that the market show followthrough in the direction of the new relative low or high. Failure to do so, per Sperandeo (and Connors, for that matter), often sets up a good risk/reward trade against the new extreme.


The case of the weekly crude oil chart in Figure 1 may prove to be a sound example. Crude oil futures (continuous futures shown here) made a high in October 2004, then corrected into the December lows before rallying again. On its second move up, crude oil futures took out the old October high in mid-March 2005. When, during the following week, prices failed to follow through to the upside, the 2B test--in this case, a test of top--was set.

What will it take to confirm a reversal from this 2B top? Sperandeo looks for prices to decline below the low of the initial, or previous top. In this case, that refers to the old October highs and a reversal confirmation point between 52 and 51.5.