By July 8, 2004, after the heavily publicized trial proceedings, the price of Martha Stewart Omnimedia (MSO) had fallen to a low of $8.11. This was because the market expected her to be found guilty and serve a prison sentence. While she was in prison, MSO stock rose to $37.64 by February 23, 2005, on a short squeeze, and it has been falling ever since. It's hard to say why. Her company has restructured; she was preparing to leave prison in a short time, with plans for new upcoming TV shows and a film to be made of her life announced. Her spring garden, not yet in daffodils, had been planted. In a few months, she would reap her bouquets. So why was MSO stock price dropping?


The share price not only fell, but plunged. In 18 days, it fell from $37.64 to $20.55, and the Fibonacci retracement shown on Figure 1 suggests that it could even fall to the 61.8% retracement level of $19.52. Do investors believe that management without her is more effective? No, because in serving her sentence, she had time to think and plan. Are short-sellers having a ball and recouping losses from the short squeeze? Definitely, and enjoying every moment of it.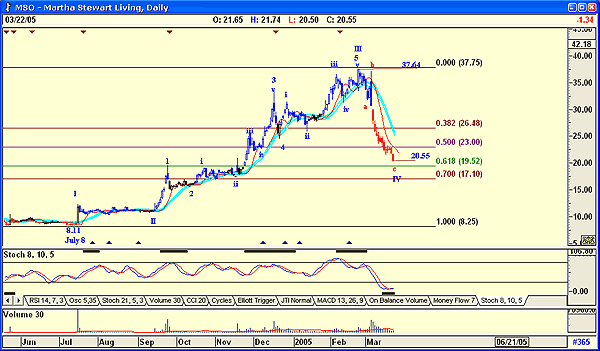 Figure 1: Martha Stewart Omnimedia. Is Martha back in the game?
Graphic provided by: AdvancedGET.
Graphic provided by: FindLaw Financial.
The Motley Fool apparently disagreed, noting that management was leaving and "the rest of the crew sold its shares when the selling was good. A bet on this loser -- to keep losing -- is very smart money."

The Motley Fool wasn't the only one nay-saying. Nat Worden, a staff reporter of TheStreet.com, had this to say: "We continue to rate the stock as a sell despite its recent pullback from the mid-$30s."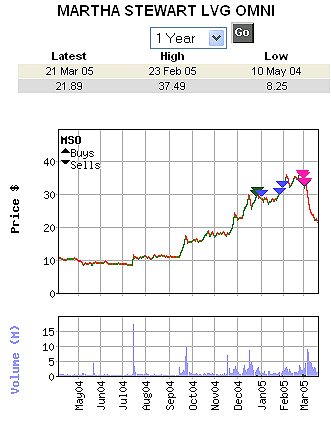 Figure 2: MSO and how it goes
Source: FindLaw Financial

The insider chart in Figure 2 shows how insiders sold shares heavily at about the $30 level, as the short squeeze chased the share price up to highs.




Fundamentals aside, our charts suggest that in the wings, there should be a move up. Whether the wave count shown is a new impulse wave upward or at the start of a B-wave in an upward correction, MSO's stock price does appear to be oversold, something confirmed by the stochastic oscillator. In addition, volume has fallen as the price fell, a very bullish sign.

Despite what the Motley Fool and TheStreet.com may opine, at these levels, I would be a buyer, not a seller.