I don't think there are many things more thrilling to see than a chart of a mania. In fact, I guess that more than a few technical analysts have been seduced into at least a passing interest in Elliott wave theory simply because they stumbled over one of Robert Prechter's "Famous Market Manias ... And Their Aftermaths" analyses in CONQUER THE CRASH or one of his earlier books.


Gouda tulip bulbs, the South Sea Co., the Dow Jones Industrial Average in the 1920s, the Nikkei from 1975, the Nasdaq from the early 1990s to 2002 ... nothing is more startling than the way that manias in different assets over different spans of time all have a tendency to look the same. That look? A rapid rise in value, seemingly out of nowhere, that is so quick and determined in appearance that otherwise skeptical minds are short-circuited by the fear of being "left behind."

What is interesting about manias, as Bob Prechter (among many others before and since) has pointed out, is that the immediate aftermath of a mania doesn't just see prices returned to some natural, "premania" level, but in fact find themselves below--sometimes FAR below -- premania values. It could be argued that this--even more than the dramatic rise--is the sine qua non of a mania: that when it is all over, the market is not just back to normal, but is worse off than before the mania began.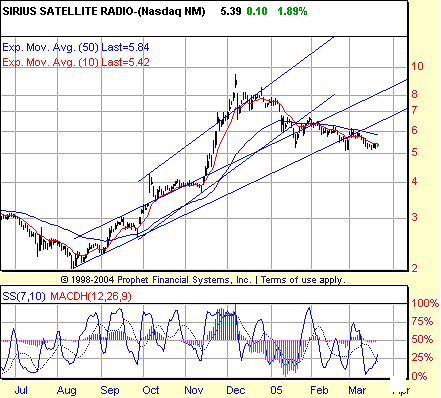 Figure 1: SIRI. Scaling from one trend channel to another as it moves higher in late 2004, shares of Sirius Satellite rose by nearly 500% in four months. Three and a half months later, will the 50% the stock gave back in 2005 be all the correcting Sirius Satellite does before the decline runs its course?
Graphic provided by: Prophet Financial, Inc.
I think of this as I look at a chart of Sirius Satellite, truly one of the hot stocks of the reelection rally of 2004 (previously known as the "Bush Bounce"). So far, SIRI has yet to show the sort of utter devastation that concludes all excursions into mania. But the way the stock rose throughout the autumn of 2004, moving from one trend channel into an even more bullish trend channel as prices skyrocketed from approximately $2 a share to nearly $10 in a span of about four months, is noteworthy enough.

The fact SIRI has proceeded to give back nearly 50% of that advance in a little over three months is no less eye-catching.



From a longer-term perspective, the decline in SIRI has broken a number of levels, each more important to the previous uptrend than the last. The break in December suggested the end of the mania, and the trendline breaks in January warned that the uptrend itself might be in danger. And with the trendline break in March--as SIRI moved both sideways and downward--it appears as if a true reversal is increasingly at hand for the shares of SIRI.


Nevertheless, if SIRI was actually a mania--rather than just a stock undergoing a correction--then we should be prepared for more than the 50% declines that SIRI has already experienced and should begin to contemplate what support SIRI might find lower down. Technically, Sirius Satellite has traded below its 50-day exponential moving average for most of the past three months, with "just in time" buying being the only thing standing between a declining SIRI and a collapsing one. Should the stock slip below its February lows near $5.25, there is a shot at support near $4. After that, it's back to where it all began--at best.