Greenback bulls in January 2005 were heartbroken by March as the rally that lifted the US dollar from its woebegone lows of late, late December 2004 rolled over unceremoniously in February, and after a brief consolidation late in the month, continued its descent into March.


While the decline in March has yet to take out the lows established in late December (and those are hardly insignificant lows, either), the dollar doomsayers are back in force. Fat and sassy on gains in gold, silver, and international currencies like the euro, those making bets against the US dollar have seen their speculation well-rewarded in recent weeks.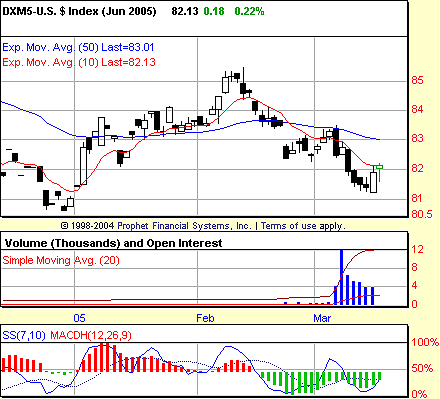 Figure 1: A positive stochastic divergence and a MACDH reversal provide the opportunity for higher prices in June US dollar futures.
Graphic provided by: Prophet Financial, Inc.
I've highlighted potential bottoms in the greenback before--bottoms that did not materialize as the greenback headed still lower. The current price action in the greenback may result in the same outcome. But with the right risk parameters, trying to nail a bottom in a falling market is not necessarily any more daring than trying to buy a dip in a rising market.

For me, the "right" risk parameters include decent bottom-spotting tools like stochastic divergences. Here, in the case of the June greenback, just such a divergence is developing between the February lows and what currently represents the March lows. Note that while the price low in March is below the price low in February, the stochastic low in March is higher than the stochastic low in February. This, plain and simple, is a positive stochastic divergence that suggests, at a minimum, that downward momentum is waning.



Right now, the key reversal day appears to have been March 14. It was by this date that not only the stochastic curled up, confirming the lower stochastic low relative to February, but also the moving average convergence/ divergence histogram (MACDH) reversed to the upside. This combination of events set up a buy point at about 82.59, just a few points above the March 15th high.


Greenback bears, on the other hand, should pay pretty close attention to the March lows. If the lows in March hold above the lows of late December 2004, then the argument for higher prices for the June greenback will be strengthened immensely. In fact, in such a scenario, it wouldn't be hard to imagine that much of the fuel for higher prices will come from short-sellers scrambling to get out of the way.