PRINT THIS ARTICLE
REVERSAL
---
The Nasdaq's No Contest
02/17/05 11:03:33 AM
---
by David Penn
---
While other averages raced toward new yearly highs, the Nasdaq continues to lag. Is that an intimation of a reversal?
Security:
$COMPQ
Position:
N/A
As the markets moved higher in February courtesy of a low in mid- to late January, the Nasdaq was remarkable for its inability to join the party. It was as if the Standard & Poor's 100 and Dow Jones industrials--both of which have neared their year-to-date highs in recent trading -- were dancing up a storm in the center of the room while the Nasdaq was busy holding up the wall.


Something that has bugged me about the January-February bounce is that while it clearly represented a bottom of some sort, it nevertheless lacked the kind of clear positive stochastic divergence that significant bottoms tend to produce. I take this kind of thing seriously because I still think that one of the best, most basic tests of a given indicator's effectiveness is: Would it have gotten you in on the last good move?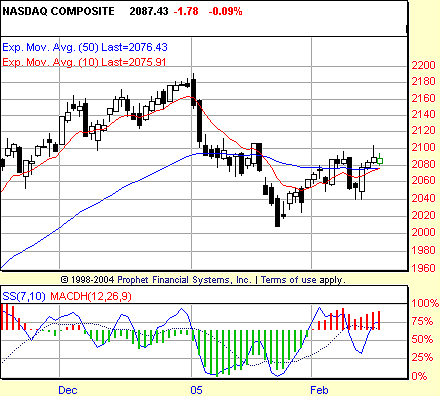 Figure 1: The Nasdaq moved higher in February in the wake of a January low that did not feature a positive stochastic divergence.
Graphic provided by: Prophet Financial, Inc.
By that criterion, my cherished 7,10 stochastic was roughed up a bit, but far from beaten. The stochastic caught positive divergences in the S&P 100 ($OEX), Russell 2000, and the March emini S&P futures contract as well as both the Dow Jones industrials and transports. Where did the divergences go missing? The Nasdaq, Nasdaq 100, and cash S&P 500.

So even while I've liked this rally, I haven't been able to shake a certain underlying suspicion of its intentions. A lagging Nasdaq is never a good sign for the rest of the market, suggesting a shift in investor sentiment from a growth orientation to something ostensibly safer among the slower-moving blue-chippers of the Dow and $OEX.



A powerful finish to the upside to close out this week could negate a great deal of that suspicion. A close above the Tuesday "shooting star" high of 2103.45 would be a major part of such a powerful finish--with followthrough that resulted in a close above the mid-January high just north of 2110.


Failing that, the 2031.81 level was marked by a shorter-term negative stochastic divergence in the first half of February as a potential "sell point." This is based on the February price highs on February 2 and 8. As of February 16, it appears that the 7,10 stochastic is about to roll over again, producing another lower peak. If this does take place, then this "running" or multiple negative stochastic divergence will likely create another sell point somewhat higher up.


---
David Penn
Technical Writer for Technical Analysis of STOCKS & COMMODITIES magazine, Working-Money.com, and Traders.com Advantage.
---
Click here for more information about our publications!
Comments
Date:
 02/17/05
Rank:
 4
Comment:
Date:
 02/22/05
Rank:
 4
Comment:
Date:
 02/23/05
Rank:
 4
Comment:
PRINT THIS ARTICLE