PRINT THIS ARTICLE
ANDREWS PITCH-FORK
---
Dow Diamonds Still Holding Pitchfork Support
02/15/05 08:17:44 AM
---
by Arthur Hill
---
The recent advance in the Dow diamonds may lack a certain power, but pitchfork support is still holding and higher prices are expected.
Security:
DIA
Position:
Hold
The Andrews pitchfork is composed of three lines. For an upward sloping pitchfork, the first line starts from a reaction low (1) and the second two lines are based on a reaction high (2) and low (3) that form after the first reaction low. The lines extend up parallel to one another and mark a rising price channel.


The upper trendline marks an extreme, and movements above this line create overbought situations. The lower line represents support and a security should hold this line to keep the uptrend in place. The middle line can be used to judge the strength of the underlying trend. Uptrends that continually fail near the middle trendline lack a certain power and may be prone to failure.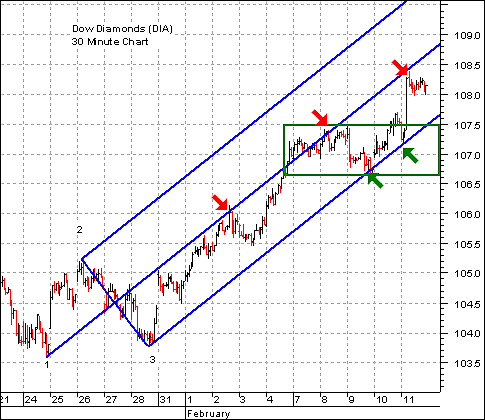 Figure 1: Dow diamond and the Andrews pitchfork. The uptrend, while still in place, lacks power, and overhead supply may be a concern.
Graphic provided by: MetaStock.
Graphic provided by: Reuters Data.
On the 30-minute DIA chart, the Andrews pitchfork extends up from the late January low. The stock held the lower trendline on February 9 and again on February 11 (green arrows). The stock flirted with the middle trendline from throughout the advance, but failed to hold above and extend its gains to the upper trendline (red arrows). This shows that the uptrend, while still in place, lacks power, and overhead supply may be a concern.


Even though the current advance may lack power, the trend is clearly up and higher prices should be expected until this trend is proven otherwise. What would it take to prove otherwise? First, the stock would need to break the lower pitchfork trendline. Second, the stock would have to break the February 9th low (106.65). Note that there is a consolidation from February 7 to 10 and then a breakout in February 11 (green box). This consolidation now acts as a support zone and a move below consolidation support would be short-term bearish.


---
Arthur Hill
Arthur Hill is currently editor of TDTrader.com, a website specializing in trading strategies, sector/industry specific breadth stats and overall technical analysis. He passed the Society of Technical Analysts (STA London) diploma exam with distinction is a Certified Financial Technician (CFTe). Prior to TD Trader, he was the Chief Technical Analyst for Stockcharts.com and the main contributor to the ChartSchool.
Title:
Editor
Company:
TDTrader.com
Address:
Willem Geetsstraat 17
Mechelen, B2800
Phone # for sales:
3215345465
Website:
www.tdtrader.com
E-mail address:
arthurh@tdtrader.com

Traders' Resource Links

TDTrader.com has not added any product or service information to TRADERS' RESOURCE.
---
Click here for more information about our publications!
Comments
Date:
 02/16/05
Rank:
 5
Comment:
PRINT THIS ARTICLE