PRINT THIS ARTICLE
REVERSAL
---
Anadarko Antes Up A Positive Divergence
01/21/05 10:50:45 AM
---
by David Penn
---
Currently overbought, how much more upside can Anadarko Petroleum eke out?
Security:
APC
Position:
N/A
I generally avoid writing about energy stocks--largely because frequent Traders.com Advantage contributor Kevin Hopson does such an excellent job of discussing the technicals of this group that I rarely feel as if I've got much to add. And, if truth be told, I'm not sure how much I'm adding with this short note on Anadarko Petroleum's late December positive stochastic divergence.


But I'm going to talk about Anadarko and this divergence a bit because it appears to be the opposite of what has happened in the broader stock market as 2004 rolled over (literally) into 2005. In the Standard & Poor's 500, Dow Jones industrials and (to a slightly lesser degree) the Nasdaq, negative stochastic divergences developed over the course of December. The surprise with which so many have received the broad-based market corrections in January suggests that not many were paying attention to this loss of momentum to the upside (the best I could do in December was a bearish Traders.com Advantage article on the Nasdaq--"Nasdaq Nears Confirmation Of Its Negative Divergence--Again" from December 21.)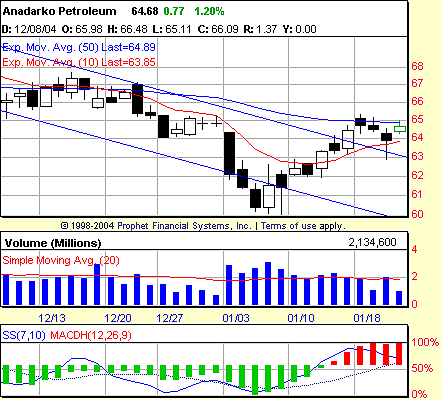 Figure 1: Anadarko Petroleum. The breakdown from the trend channel in early January coincided with a higher low in the 7,10 stochastic. It is this confluence of strange bedfellows that often leads to powerful divergences.
Graphic provided by: Prophet Financial, Inc.
But while the broader market was making negative stochastic divergences, stocks like Anadarko Petroleum were making positive stochastic divergences. Compare the successively lower lows in APC from December to January with the successively higher lows in the 7,10 stochastic. This positive divergence provided an alert on January 6 when, in concert with the upturn in the stochastic that created the January trough, the moving average convergence/divergence (MACD) histogram (H) or MACDH put in a low and reversed to the upside.

Entering above the high of that alert day would have a trader or investor long near 63. The range-based approach I've been following over the past several months would have allowed for an entry somewhat higher up (that is, 63.88).



The pullback that APC experienced over the three-day stretch from January 18 to 20 has provided a worthwhile test for any advance in the stock. APC had been declining in a trend channel over the course of December. After breaking out of the trend channel in mid-January, Anadarko had a mild pullback that while taking out previous daily lows, never broke down below the 10-day exponential moving average (EMA) on a closing basis. Equally important, the upper boundary of the trend channel, which has played the role of resistance on the way down in December, played the role of support during the mid-January pullback.


Anadarko has moved up in a sharp, V-like fashion since rallying from its positive stochastic divergence early in January. As the streaking stochastic suggests, this current uptrend might be unsustainable. The question is whether the mid-January correction cooled off the market for APC enough for new buyers to still think they are getting a deal. There is resistance at the 65 level and further resistance between 68 and 66.


---
David Penn
Technical Writer for Technical Analysis of STOCKS & COMMODITIES magazine, Working-Money.com, and Traders.com Advantage.
---
Click here for more information about our publications!
Comments
Date:
 01/21/05
Rank:
 3
Comment:
Date:
 02/04/05
Rank:
 3
Comment:
PRINT THIS ARTICLE