PRINT THIS ARTICLE
SHORT SELLING
---
Shorting Stocks-Part 2
06/08/00 10:23:40 AM
---
by Jayanthi Gopalakrishnan
---
Here's how you can profit from a falling stock.
Security:
QCOM
Position:
Sell
In Part 1 you were shown the importance of monitoring the broader index in order to identify trend reversals. I used a display of the intraday chart of the Nasdaq 100 Index for June 6, 2000 as an example of a good shorting opportunity. Now I'll walk you through a trade using Qualcomm, Inc. (QCOM).


On June 6, QCOM followed a similar chart pattern as the Nasdaq, giving rise to a possible shorting opportunity. As shown on the chart below, I entered a short position at 71 3/4 when the moving average started sloping downward and the prices fell below it. The broader index showed a similar weakness. I covered my short position at 70 1/4 when conditions showed signs of reversing. Although there were ocassions between my entry and exit points where prices moved towards the moving average and in some instances above it, the broader index still showed a downward trend, so I continued holding my short position. It wasn't until the Nasdaq 100 index showed signs of reversing that I covered my short position.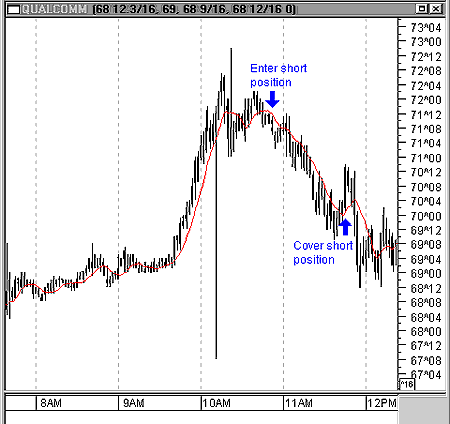 The potential to enter a short position occurred when the moving average started sloping downwards and prices fell below it.
Graphic provided by: MetaStock.
To summarize, I borrowed shares of QCOM from my broker and sold them in the market for 71 3/4 per share. I bought these shares back for 70 1/4 and returned them to my broker. My profit from this trade was $1.50 per share, minus commissions and interest.


---
Jayanthi Gopalakrishnan
---
Click here for more information about our publications!
Comments
PRINT THIS ARTICLE