PRINT THIS ARTICLE
SHORT SELLING
---
Shorting Stocks-Part 1
06/07/00 10:17:15 AM
---
by Jayanthi Gopalakrishnan
---
Profits can be accumulated while prices of securities are heading lower.
Security:
$NDX
Position:
N/A
Although "buy low, sell high" is the first idea that comes to mind when you think of making money in the stock market, you can take advantage of a falling market. This is known as shorting a stock and it may be intimidating to some, but the concept behind it is similar to going long (buying low and selling high). You can short stocks when you anticipate a drop in prices. Essentially you are borrowing shares from your broker and selling them at the market price. Assuming you were correct and the prices dropped, your next step is to buy the shares back at a lower price and return the number of shares back to your broker. Your obligation to your broker is to return the number of borrowed shares, not the value at which you borrowed them. Hence, your profit will be the difference between the price you sold them for at the time you borrowed the shares and the price you bought them back for when you covered your short position.


Long and short opportunities exist in any market and you have to prepare yourself for both. How do you know when to short shares? I generally use the moving average as an indicator to determine the general market direction. On the chart of the Nasdaq 100 Index I have an overlay of the 15-period moving average. Notice how the direction of the moving average reversed at point 1. At point 2 prices crossed above the moving average but moved back below it at point 3. The time period between points 1 and 2 as well as between 3 and 4 would have presented good shorting opportunities.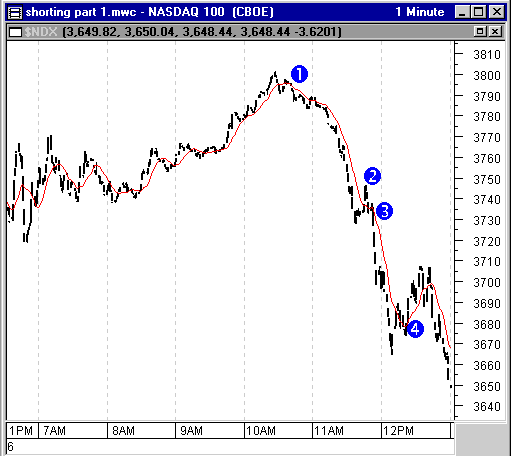 When prices start heading lower it can present good shorting opportunities.
Graphic provided by: MetaStock.
When you notice a reversal in the market, look for charts that follow a similar pattern. In part 2, I will show you an example, which I hope will lessen the fear some may have of shorting stocks.


---
Jayanthi Gopalakrishnan
---
Click here for more information about our publications!
Comments
Date:
 02/21/02
Rank:
 2
Comment:
PRINT THIS ARTICLE